Catalina Marketing helps predict customer behavior with SAS®
SAS® helps Catalina deliver the right messages to the right customers, right at the point-of-sale
If you've ever purchased an item at a retail grocery store and received a coupon at checkout for the same product, or something similar, you're familiar with Catalina Marketing. As the largest customer behavior marketing company in the world, Catalina analyzes and predicts shoppers' buying behaviors to generate customized point-of-sale color coupons, advertisements and informational messages for retail stores and pharmacies nationwide. 
A recipe for success
A pioneer in customer relationship management, Catalina was the first to install computers at retail stores that made a coupon or advertising decision based on what was happening during that one transaction. "It worked – our retailers were able to offer coupons that shoppers would use, and our company skyrocketed in size,'' says Eric Williams, Executive Vice President and CIO.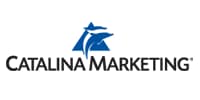 Catalina helps retail customers reach shoppers at the point-of-sale and continues to promote its brands online with a unique interactive experience. Catalina's marketing network is installed in more than 23,000 stores and 14,000 retail pharmacies in the US and 7,000 stores worldwide, collecting data from more than 250 million transactions every week.

But Catalina's executives knew they could do better by storing shopper transaction histories over a period of time and developing more targeted marketing messages based on that historical knowledge. Then, they realized Catalina could further set itself apart from competitors if they could predict which customers might be most interested in purchasing a client's product.

Taking it to the next level
"We want to not just be on the leading edge, but on the bleeding edge in the marketplace in terms of what we can offer our clients,'' says Laurie Wachter, Senior Vice President of Analytics for Catalina. "SAS solutions have allowed us to actually predict what customers are likely to buy and that has revolutionized our ability to make our clients' coupons and messages relevant to shoppers," says Wachter. 

To keep this bleeding edge, Catalina needs to build accurate models quickly.
"We build models now to help our manufacturer customers reach the shoppers who are most likely to be interested in their new products, enabling them to increase profitability from their new product introductions," says Wachter.

Acquisition, loyalty, and attrition models are just some of the ways Catalina helps its clients become more relevant to and create relationships with their customers. Using SAS, Wachter says her team can build three to four times the volume of models that a modeler working with another tool can build.

Laurie Wachter, Senior Vice President of Analytics
"I know from experience and discussions with colleagues in the industry how long it can take to build a predictive model,'' Wachter says. "They're taking more than a month to build one model. Using SAS, we've automated the execution of our models and scoring them against our entire 140 million consumer database for the implementation of marketing campaigns literally in days."

"Not only that, but our samples are 10 to 15 times larger than anything anyone else is doing today,'' Williams says. "Nobody could do what SAS is enabling us to do – the capabilities just didn't exist beforehand."

Managing massive amounts of data
Catalina maintains a database of shopper purchasing information over a three-year period of nearly 140 million consumers. As Catalina Marketing built this network, executives knew they needed a data mining tool that could handle incredible volume – as much as 650 billion-row data tables.

"When we put down the number of records we need to store, other software vendors could not meet the demand," said Williams.

"Another aspect of data this robust is that we're now assessing millions of variables to identify which will provide the most accurate predictions," adds Wachter.

The company also needed a solution that was easy to use because nonprogrammers needed the ability to do some of the modeling.

"SAS gave Analytics the ability to offer added value to the organization since it can handle large volumes of data and has user-friendly options so now everyone on our Analytical staff can perform sophisticated analyses. That's a big deal for us," says Wachter.

New products = new customers
Using SAS, Catalina has developed the "Innovator Model" to help its clients acquire new customers for innovative new consumer packaged goods products that leverage new technologies, offer new tastes or in some way deliver a brand new product to the marketplace. These are products that have no direct competitor, so it isn't easy to determine exactly which consumers would be most interested in trying it.

Wachter explains, "What the Analytics team can do through SAS is identify products that bear different similarities to aspects of a product a company wants to introduce. We can find the combinations of other categories or brands or flavors that suggest the people who would be most likely to try the new product. SAS allows us to play with the data and be flexible.''
"We've been helping our clients reach the right people with the right messages for 25 years," says Williams. "But with the predictive capabilities we have with SAS tapping into the historical purchasing data of almost every grocery shopper in the US, we're able to do it with more precision than anyone else in the market."
The results illustrated in this article are specific to the particular situations, business models, data input, and computing environments described herein. Each SAS customer's experience is unique based on business and technical variables and all statements must be considered non-typical. Actual savings, results, and performance characteristics will vary depending on individual customer configurations and conditions. SAS does not guarantee or represent that every customer will achieve similar results. The only warranties for SAS products and services are those that are set forth in the express warranty statements in the written agreement for such products and services. Nothing herein should be construed as constituting an additional warranty. Customers have shared their successes with SAS as part of an agreed-upon contractual exchange or project success summarization following a successful implementation of SAS software. Brand and product names are trademarks of their respective companies.
Copyright © SAS Institute Inc. All Rights Reserved.