SAS® scores success for microfinance giant
SAS Desktop Data Mining for Midsize Business helps ACCION Texas-Louisiana successfully lend money to small-business owners who wouldn't qualify for loans through traditional lending institutions. The nonprofit microfinance organization has been so successful that 14 microfinance organizations across the country have outsourced all or part of their underwriting to ACCION.   With more than $26 million in their portfolio, ACCION Texas-Louisiana is the largest microlender in the United States.  
ACCION: At a Glance
The organization lends $500 to $100,000 to small-business owners with an average FICO credit score of 585, well below most banks' acceptable thresholds.
In order to lend without a high default rate, the organization must evaluate 35 separate criteria to find business owners capable of repaying loans.
The organization needed to quickly score applicants on its unique criteria to keep its underwriting staff lean and free up loan officers to seek good candidates.
ACCION Texas-Louisiana needed a solution that could be managed by a team with little or no programming experience.

With SAS®, ACCION:
Created a scorecard reducing the number of loan applications that must be reviewed by underwriters by 50 percent (the other half are automatically approved or denied).
Decreased the time it takes loan officers to prepare one application from four hours to 30 minutes.
Reduced loan approval time from two weeks to three days.

The scorecard is so successful that ACCION: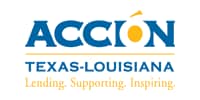 Dropped the percentage of loans needing restructuring from 7 to 2.5 percent.
Decreased its delinquency rate from 20 to 5 percent.
Was able to market and sell its underwriting capabilities to 14 other microfinance organizations.
Gained the respect and partnership of Citigroup Inc. Citigroup currently buys up to $30 million worth of loans from ACCION.

The value of SAS®
"The scorecard gives us the information needed to manage risk, increase our efficiency and provide faster turnaround times for our customers,"  says Janie Barrera, ACCION Texas-Louisiana President and CEO.

The results illustrated in this article are specific to the particular situations, business models, data input, and computing environments described herein. Each SAS customer's experience is unique based on business and technical variables and all statements must be considered non-typical. Actual savings, results, and performance characteristics will vary depending on individual customer configurations and conditions. SAS does not guarantee or represent that every customer will achieve similar results. The only warranties for SAS products and services are those that are set forth in the express warranty statements in the written agreement for such products and services. Nothing herein should be construed as constituting an additional warranty. Customers have shared their successes with SAS as part of an agreed-upon contractual exchange or project success summarization following a successful implementation of SAS software. Brand and product names are trademarks of their respective companies.
Copyright © SAS Institute Inc. All Rights Reserved.