Investment Controlling with SAS®
Identifying, measuring and steering risks
IDS GmbH – Analysis and Reporting Services (IDS), headquartered in Munich, Germany, with additional offices in Frankfurt am Main, is a provider of managed services in the financial services sector specializing in operational investment controlling. About 90 percent of its 150 employees from over 20 different nations have completed university studies in the areas of economics, mathematics, physics or computer science.
IDS is a wholly owned subsidiary of the global Allianz SE group. Its client list includes domestic and foreign capital investment and insurance companies within the Allianz group. Also, IDS is increasingly offering its services to companies outside the group. IDS' product portfolio includes supplying market data, analyzing and reporting on performance and risk data, and producing consolidated and customer-specific analyses and reports. The business model is based on a system architecture developed by IDS, on its own analysis models and on current, state-of-the-art market applications.
The task at hand
For a financial services provider, the job of identifying, measuring and steering risks is one of the keys to achieving success in modern capital markets. Crises occur, and in response government regulators have been routinely expanding their risk management requirements to protect customers and investors. For example, capital investment companies are subject to the European UCITS III Directive and its implementation into German federal law – the so-called Derivateverordnung (derivatives regulations) – which regulate the requirements for controlling risks and reporting them to the appropriate regulatory authorities.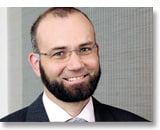 Michael Kathrein
VaR-Related Risk Analytics Team Lead
In order to ensure that it remains open to future developments, IDS must carefully select the product it uses in order to make certain that, in addition to offering stability and outstanding performance, it has the flexibility needed to provide customer-specific modifications and enhancements. In addition, the selected solution must integrate smoothly into the existing IT landscape at IDS.
The solution
SAS Risk Dimensions gives IDS a platform that integrates seamlessly into the existing IDS data warehouse while meeting the requirements of the German derivatives regulations.
To do this, a standard-delta-normal approach is used to calculate not only value-at-risk (VaR) performance indicators but also, as an IDS-specific enhancement of the SAS output, the contributions of individual investments and/or risk factors to the total VaR of a given portfolio ("contributional VaR"). In the event of significant nonlinearities, a Monte Carlo simulation on the basis of the covariances estimated for the delta-normal approach is available to supplement the analysis.
Furthermore, for a series of portfolios the calculation of VaR is enhanced by configuration options for processing relevant position data and by the ability to generate SAS risk environments in a flexible manner by calculating a tracking error relative to the benchmark portfolio.
The benefits
The flexibility of this solution allows the system to be adapted promptly to new requirements with respect to risk parameters as well as investment products.
The smooth integration of the solution into the existing IDS architecture supports the optimal incorporation of risk calculations into the range of services provided by IDS.
The enhancement of the delta-normal method with scenario analyses and Monte Carlo simulation provides a portfolio-specific view of the underlying risks.
The performance and scalability of the solution ensure the ability to process an increasing number of portfolios and analyses.
The project
In compliance with UCITS III and the German derivatives regulations, IDS calculates daily VaR figures for about 750 portfolios, including its derivative-free reference assets (benchmarks). These figures are integrated into the portfolio management process and are validated through regular back-testing. The asset data as well as the master investment data needed to evaluate it are provided directly from the IDS data warehouse in which this quality-assured information is stored.
To provide the necessary histories, IDS can also access an existing market database in which price data for various investment types and vendors (such as Bloomberg, MSC and Lehman) are stored. Thanks to SAS software's performance capabilities, IDS can update risk factors used in the VaR calculation on a daily basis, including: estimated statistical parameters (variance, covariance) for about 6,000 stocks, indices and benchmarks; 2,000 interest curve buckets, including credit spreads; 250 implied volatilities; and over 50 currency parities.
On the basis of this data, dynamic risk environments are generated in batch mode using SAS Risk Dimensions in which the necessary VaR performance indicators are estimated at multiple aggregation levels. Finally, all relevant simulation results are exported into the IDS data warehouse. By using pass-through processing, the 1.5 million risk contributions calculated daily can be transmitted easily.
Supplementary scenario simulations are conducted at monthly intervals, and in the case of significant changes in the risk situation round off the risk profile analysis of the portfolio in question.
The results illustrated in this article are specific to the particular situations, business models, data input, and computing environments described herein. Each SAS customer's experience is unique based on business and technical variables and all statements must be considered non-typical. Actual savings, results, and performance characteristics will vary depending on individual customer configurations and conditions. SAS does not guarantee or represent that every customer will achieve similar results. The only warranties for SAS products and services are those that are set forth in the express warranty statements in the written agreement for such products and services. Nothing herein should be construed as constituting an additional warranty. Customers have shared their successes with SAS as part of an agreed-upon contractual exchange or project success summarization following a successful implementation of SAS software. Brand and product names are trademarks of their respective companies.
Copyright © SAS Institute Inc. All Rights Reserved.