See the opportunities hidden in big data. Learn how data visualization leads to better analyses of huge volumes of complex data, faster decisions and more effective presentations of analytic results.
Watch this webinar to:
Discover how to visualize data and deliver insights faster and more accurately than previously possible.
See specific, hands-on demonstrations of effective data visualization.
Get recommendations and steps for applying analytical visualizations.
Sneak Peek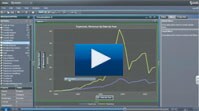 Presenters
Justin Choy
Global Product Management, Business Intelligence, SAS
Jennifer Marchi
Business Intelligence Product Marketing, SAS
View this brief on-demand webinar right now, or save it to your calendar to watch later. After you register, we'll provide you with an Outlook calendar file to save to your calendar client.