A gift for you at Booth 753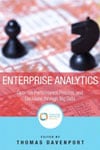 Learn how to improve your retail business – higher profitability, increased customer loyalty, accurate forecasts and more – through better data-driven decisions using analytics. Stop by the SAS booth and pick up your complimentary copy of the exciting new analytics book by Thomas Davenport and the IIA (International Institute for Analytics), Enterprise Analytics: Optimize Performance, Process, and Decisions Through Big Data, to learn how to use data meaningfully for competitive advantage.
Enterprise Analytics is today's definitive guide to analytics strategy, planning, organization, implementation and usage. It covers everything from building better analytics organizations to gathering data; implementing predictive analytics to linking analysis with organizational performance. You'll discover:
The latest techniques, best practices and research on analytics in a single primer for increasing the value of enterprise data.
Insights for improving supply chains, online services, marketing, fraud detection and more.
Real-world examples featuring chapter-length industry case studies, including retail.
Why this book is important for retail
Retail organizations are capturing exponentially larger amounts of data more than ever, and now they have to figure out what to do with it. Using analytics, suddenly, you can go beyond understanding "how, when, and where" events have occurred, to understand why – and use this knowledge to reshape the future.