CareSource holds down costs, helps patients with SAS®
CareSource is a major not-for-profit Medicaid-managed healthcare plan. By consolidating all its data and analyzing and reporting it with SAS, the Ohio-based company is identifying high-need patients quickly to improve the care they receive while holding down costs. CareSource does this while spending less than 6 percent of its overall budget on administration. 
Customer Success Video
Check out this video to learn more about CareSource and its successes with SAS.
View Video
(Runtime: 4 mins., 13 secs.)
---
Customer Viewpoint
You have questions; our customers have answers. Check out this video Q&A.
Bob Gladden
Vice President, Information Management and Analysis
View Video
---
(Requires Windows Media Player 6.4.7 or higher or RealPlayer 6 or higher)
As CareSource has grown to include more than 700,000 Medicaid recipients, executives realized they were getting multiple versions of the truth. Analytic groups were spread throughout the company, each creating their own set of reports. "If you asked a question of four different people, you probably got six different answers,'' said Bob Gladden, CareSource Vice President of Information Management and Analysis.
Gladden wanted an analytic framework that could handle the data, analysis and reporting – rather than a patchwork of solutions that would need to be linked together. He has used numerous solutions in previous positions, including SAS. "I was most successful with SAS. And since SAS can do everything we need, it keeps our administrative costs low,'' Gladden said.
CareSource receives a flat fee per patient, so to manage those dollars successfully, they need to redirect clients from high-cost care (like ER visits for routine care) and make sure their chronic conditions are successfully managed.
Before using SAS, it was difficult to figure out whom to enroll in care-management services. "Case managers would log into the source system and scroll through hundreds of pages of information looking for test authorizations, notes from primary care physicians and claims for clues to patients needing management,'' says Cathy Meade, Director, Decision Support and Informatics. "It was difficult and time-consuming. Previously, when the company did identify a high-cost patient, it was often one that was experiencing a one-time incident such as an otherwise healthy baby in the neonatal unit because of premature birth."
Today, CareSource analyzes pharmacy records within 30 days of enrollment to identify patients with chronic conditions such as diabetes and congestive heart failure. When not carefully managed by physicians, these patients often endure expensive and repeat visits to ERs and hospitals. With SAS, CareSource is also able to quickly find patients with healthcare usage that is not only expensive, but potentially ineffective or even dangerous.
"We've discovered a patient with 27 unique doctor visits in one month and 30 different prescriptions written (seven of them just for asthma). We've found patients who were taking medicine prescribed by different doctors that were contraindicated. In addition, patients that visited the ER so many times for headaches they had more CAT scans than is healthy,'' Meade says.
While SAS helps the company identify patients that need a more strategic treatment plan, it also helps physicians better care for patients by providing care treatment plans that are customized to different patients. CareSource also uses SAS to provide clinical practice reports that inform physicians of patients who need various types of services.  Prior to the SAS solution this process was managed through multiple reports, each one specific to a particular treatment need.
Today, physicians receive reports on all their Medicaid patients showing information such as which children need lead testing and which diabetics are overdue for a blood sugar test. They see if patients are visiting the ER for routine care and other key measures that assist with identifying gaps in necessary preventative care a member should receive. With this information, many CareSource network physicians are calling patients to schedule follow-up appointments and testing.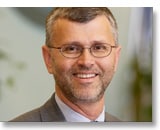 Bob Gladden, Vice President of Information Management and Analysis
The next step for CareSource is to use SAS forecasting to expand upon efforts under way to identify members at risk of developing illnesses like diabetes and get them into the care management system before the disease develops.
"We want to save money, but honestly as a mission-driven, non-profit company that isn't the primary reason we do this,'' Gladden says. "We're really concerned about facilitating better care for the member. SAS is a critical component of that effort."

Copyright © SAS Institute Inc. All Rights Reserved.