Acosta rings up success in the grocery aisle
Retail grocers and consumer packaged goods clients realize greater profits and sales with Acosta's innovative use of SAS®
There is nothing more frustrating than finding an empty shelf at the grocery store where your favorite brand of orange juice should be. Consumer goods sales and marketing agency Acosta knows that out of stocks cost consumer goods companies and retailers millions of dollars in lost sales, not to mention annoyed shoppers. Using SAS Analytics for pricing optimization and assortment planning, Acosta is helping its clients reduce out of stocks, by 50 percent, gain 5 to 10 percent of promotional lift – and keep shoppers happy.
Customer Success Video
Check out this video to learn more about Acosta and its successes with SAS.
View Video
(Runtime: 4 mins., 28 secs.)
---
Customer Viewpoint
You have questions; our customers have answers. Check out this video Q&A.
Paul Price
Senior Vice President of Marketing Services
View Video
---
(Requires Windows Media Player 6.4.7 or higher or RealPlayer 6 or higher)
The classic problem: getting the right products in the right stores at the right time
For several decades, out of stocks have stubbornly held at about 8 to 10 percent of a typical store's merchandise. Heavy investment in SKU (stock keeping unit) technology to track inventory has been offset by a massive increase in inventory variety. In 1980, an average grocery store carried 15,000 items. Today, it carries 47,000. Orange juice no longer comes just fresh or frozen. Where one brand of fresh orange juice once had five feet of store space to itself, it now shares that space with its pulp-free and calcium-enriched cousins.
 
Out of stocks are complicated by the more sophisticated approach consumer packaged goods (CPG) companies take to pricing and promoting goods, explains Paul Price, Acosta's Executive Vice President of Marketing Services.  "CPG companies used to dump supply and then created events to move it. Now it is a more pull-driven process that tries to anticipate how much of a product will be sold," Price says. This process should reduce out of stocks, but promotions remain the wild card, Price explains. 
"From a promotion perspective, CPG companies need to make sure that they're putting the right inventories in the right store,'' Price says.  With SAS, Acosta's clients are getting a lift on promotions of 5 to 10 percent while out of stocks have dropped by half. "With SAS, we're able to predict better sales volume at individual stores and better align where the product needs to be to please shoppers,'' Price explains.
Answering critical pricing and inventory questions
Acosta calls on retailers in the US and Canada and represents over $50 billion in sales -- and almost 25 percent of all products that go through a typical grocery store's warehouse. Along with representing thousands of food and consumer items, Acosta provides consulting services to help CPG companies set appropriate base and promotion prices and keep the right amount of products in stores.
Price's team faced three challenges in providing these services: the need to accurately model retail situations; the ability to cluster stores (by volume or other demographics); and the ability to do this with vast amounts of information.
"With SAS, we now have the ability to take large sets of data and apply models to predict what shoppers are going to be looking for in the future so that we can have the right inventory in stock."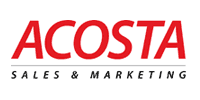 Acosta fields a team of about 5,000 individuals who visit retail outlets daily using handheld devices that transmit stock and price information to a data warehouse. That information is combined with point-of-sale data from retailers and syndicated data to help build models that answer critical pricing and stocking questions. "You can imagine the amount of data we have to get down to at the store and UPC level," says Price. "One of our biggest challenges has been digesting that data and doing something meaningful with it. That's where SAS comes in."
Many needs, one solution
Acosta chose SAS because it could handle the challenges and answer the critical questions with greater accuracy in a user-friendly way. "We needed a robust, demand-driven process that could help us solve issues for our clients. Most vendors have a point solution. It's very specific," Price explains. "But if you're trying to solve the entire closed-loop process, you would end up needing several point solutions. With SAS, we can solve many of our merchandising, assortment, pricing, and shelving needs or use SAS' advanced analytics component in conjunction with other software solutions we're utilizing.''
Accurate predictions boost promotions, improve pricing decisions
Using SAS, Acosta helps CPG companies with price elasticity decisions. One-size-fits-all pricing is a relic. CPG companies determine price by looking at factors like store volume, the number of competitor brands they share shelf space with, private labels and geography. Companies must also factor in the base price when choosing promotional prices. Acosta needs to be able to build all these factors into its models along with understanding the quirks of retailers' computer-assisted ordering systems, which sometimes show stock on the shelves that doesn't exist.
"With out of stocks, we're really trying to understand the root cause. Is it the plan-o-gram or capacity, promotion, phantom inventory, or voids?" Price explains.
Acosta also provides CPG companies with consulting services that help them stock stores based on the specifics of the stores themselves. Food Lion segments its stores based on the type of customer that shops at a given store (affluent or budget-oriented, for example). Acosta helps its clients promote and price products based on this segmentation.
"Applying SAS Analytics has allowed us to get smarter with where we put promotion displays. It's allowed us to be a lot smarter with choosing base prices. And we've gotten a lot smarter with how we apply promotions. To be able to predict and apply price points is really important to us.''
 "The worst thing you can do is run a special and be out of stock," Price says. "SAS gives us the power to know what inventory needs are at stores so that doesn't happen.''
Copyright © SAS Institute Inc. All Rights Reserved.