Forget branding, says Topdanmark. Less is more.
At Topdanmark, timing and processes are more important than creative communication because growth is more important than top-of-mind awareness. So what does the marketing department do when it does not spend time and money on mass communications? For one, it does marketing automation.
Customer Success Video
Check out this video to learn more about Topdanmark and its successes with SAS. 
View Video
(Runtime: 3 mins, 36 secs)
---
Customer Viewpoint
You have questions; our customers have answers. Check out this video Q&A.
Bjørn Verwohlt 
Deputy Chief Executive
Topdanmark
View Video
---
(Requires Windows Media Player 6.4.7 or higher)
"At Topdanmark, we do not spend money on large-scale image campaigns. We do not believe in their impact," says Bjørn Verwohlt, Deputy Chief Executive at Topdanmark who is responsible for the company's marketing. Unlike its competitors – Alm, Brand, Tryg, Codan and Alka, among others – Topdanmark, one of Denmark's leading insurance companies, has decided to turn its back on advertising agencies, magazines, radio and TV. An entire communication industry warns Topdanmark against not spending any money on media coverage, but Topdanmark's indisputable financial results belie these warnings. At least so far. 
Exceptional position
Executives at Topdanmark fundamentally disagree with the belief that top-of-mind awareness automatically generates an improved bottom line and that being well-known is equal to commercial success. The conviction affects the marketing department, which – in most companies – unhesitatingly associates recognition with a sound bottom line. 
"We look at sales processes and customer processes instead, which we try to optimize in any way possible," says Verwohlt. "Only when communication can make a difference in relation to sales and loyalty do we want to spend money on it. This also implies that when we see that mass communication affects the bottom line, then we also want to use this channel."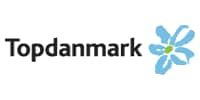 Priorities at Topdanmark include keeping the entire organization customer-oriented and optimizing customer communications for each situation. Indeed, experience shows that optimizing marketing campaigns on a case-by-case basis is far more important than flashy mass communication. At Topdanmark, the focus is on processes and not large-scale campaigns. 
Specifically, Topdanmark's marketing department, which consists of 21 employees, concentrates on sales, marketing automation and organizational development. The division of lead generation works closely with the various sales departments, and the division of organizational development stays in close contact with Topdanmark's sales personnel, the service department and the claims department to guide the organization toward becoming increasingly customer-oriented. Each potential marketing campaign is measured on whether it contributes to crucial parameters such as cross-sales and loyalty. 
Lead generation with IT support
Topdanmark recently introduced marketing automation for lead generation. The solution supports Topdanmark's desire for dialogue-based marketing based on each individual customer situation. 
In particular, SAS Marketing Automation is designed to optimize campaign effectiveness for every situation andat every stage of the marketing process – from setting strategy and targeting opportunities to implementing campaign initiatives and measuring results. 
Through a feasibility study – or proof-of-concept – the solution immediately showed great potential at Topdanmark, where it has been used since mid-2006 primarily by four lead management marketers. More specifically, the system collects data from Topdanmark's sales system, business support system and the GTI insurance system. Each of these large operational and administrative IT systems are maintained by Topdanmark's own IT team. 
"We are able to increase our value vis-à-vis the business segments because we utilize data more efficiently and optimize the campaign process," says Jens Green, who is responsible for Topdanmark's lead generation in group marketing. "Marketing automation provides an overview of the total campaign flow. It is a strong tactical tool." 
Marketing automation gave Topdanmark a very quick payback because the marketing team was able to increase both the amount and the quality of its lead generation efforts. In other words, process optimization through marketing automation generates more campaigns with better results from the same amount of resources. All initiatives are measured according to the value they produce in the business units – private, business, industry, pension and agriculture – in which approximately one third of Topdanmark's 2,300 employees generates the results.
Time to market
"We expect that the number of fixed operational campaigns will double from 15 to 30," says Green. "In addition, group marketing will be able to achieve a faster time to market on the campaigns – this implies less time spent from the idea to the actual communication with the customers." 
Finally, Topdanmark also saves a considerable amount of money from not having to buy services from external suppliers as part of the campaign flow because the solution entails that several phases of the campaign move in-house. 
Marketing automation is based on the idea of automating the relations between data and processes. This way, a campaign can be executed again at a later point by means of the automated procedures, but with new and updated data. Green explains that a considerable part of the lead generation process involves sorting and analyzing data, and the media itself that establishes the contact with the customer is a small part of the total campaign flow. This fact makes it possible to think conceptually once and to execute the process several times afterward. SAS Marketing Automation automates the campaign production, collects data and provides an overview to the employees in lead management.
"Our philosophy is to make a positive difference for our colleagues in the rest of the organization," says Bjørn Verwohlt. "This applies to lead generation as well as to all other facets of our work. This way, marketing is clearly grounded in Topdanmark's basic values."
Copyright © SAS Institute Inc. All Rights Reserved.