From Purchasing to Profits
SAS uses its own SAS® Supplier Relationship Management to drive strategic sourcing
In the endless quest to improve margins, the first place a company looks is expenses: how to cut costs without compromising products and services. But what if that company is in the knowledge business – with no clear-cut supply chain costs to tie to quality outcomes? Faced with such a challenge, SAS looked into its own cupboards. Today, using SAS Supplier Relationship Management, the company is saving significant dollars while continuing to lead the industry in business intelligence software and maintaining one of the world's most coveted workplace environments.
Procurement as a Profit Center
Dan Southwick, director of Procurement and Business Services (PBS) for SAS, views his job as managing a set of portfolios – investments in goods and services on behalf of SAS. Each portfolio – IT services and support (hardware, software, support); sales and marketing services and support (printing, forms, promotional items); and corporate services (maintenance, utilities, construction, office supplies and equipment, furniture) – must be managed for maximum return and minimum risk. He expects his department not only to pay for itself in savings achieved through skilled management of supplier relationships, but to actually turn a profit.
"It's not just about 'buying things' anymore," says Southwick, "or getting the lowest price." PBS also considers on-time delivery, quality and payment terms, all of which affect total cost of ownership (TCO). SAS Supplier Relationship Management provides the intelligence that PBS needs to develop cost-effective strategies for purchasing, to determine the best vendors and to secure the most beneficial deals for SAS. "Without visibility of the entire spend," says Southwick, "all you have is price. With the SAS solution, you can also see where the product comes from and who is using it – areas where you can really add value."
From Cost Control to Consolidation, Clout
Not all vendor transactions flow through PBS, and so they may not show up in the purchasing system. SAS Supplier Relationship Management enables SAS to capture data at the invoice level, such as expenditure data on consulting, subscriptions, advertising and travel, and then perform spend analyses quickly and easily. In one instance, multiple departments were using the same information vendor, but negotiating rates separately. "We were able to combine contracts and save about $64,000 – SAS Supplier Relationship Management helped us do that," says Southwick.
Other savings have resulted from the ability to identify active vendors and consolidate spending where appropriate. Of nearly 10,000 active suppliers, SAS did business with approximately 7,200 in 2003. Yet 245 of those – only four percent – accounted for 80 percent of the spend. Who were the smaller vendors? Did they offer additional value? SAS spends hundreds of millions of dollars annually. Used effectively, that's significant negotiating clout. "You want to be able to go to one company and say, 'I spend $200,000 a year on plumbing'," says Southwick. "'If I give you all that business, what kind of discount can you give me?'"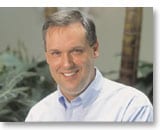 David Davis, vice president and chief accounting officer
Knowing Suppliers Pays Dividends

Executive Management Insight
Expanding beyond the traditional concept of a procurement solution, SAS Supplier Relationship Management also provides an enhanced view for executives at SAS, including vice president and chief accounting officer, David Davis. "From an accounting perspective, it gives us a mechanism to capture all our disbursements and analyze them at a much more granular level." says Davis, explaining that the solution enables executives to see beyond the balance sheet to understand how money is being spent. "You might get to the point in your financial reporting where you want to dig deeper to look at comparable purchases, alternative vendors or company details – it's a level of detail not available in financial management software alone."
SAS Supplier Relationship Management will become even more valuable as SAS expands its efforts to establish global contracts with top vendors. Travel, for example, is a prime area where the 360-degree view provided by the solution will enable SAS to consolidate the dozens of airlines and hotel chains it currently does business with into a limited number of cost-saving contracts. "You just can't get this kind of intelligence from your transactional systems," says Davis. "Not only do you get the enhanced reporting and analysis, but it integrates seamlessly with our other SAS solutions – SAS Financial Management, SAS Human Capital Management and SAS Strategic Performance Management – to give us the competitive edge we promise our own customers."
Copyright © SAS Institute Inc. All Rights Reserved.