BMO banks on SAS® to support its customer-centric approach
The Bank of Montreal is striving to be the bank that defines great customer experience. In order to provide a consistent and predictable experience across all customer touch points, it became vital to bring together data from individual lines of business and to equip the organization with tools to leverage the data. BMO established SAS as one of its key BI tools for immediate productivity and revenue results – and ultimately a better view of its customers.
Established in 1817, BMO Financial Group serves more than 10 million personal, commercial, corporate and institutional customers in North America and around the world. Its goal is to differentiate itself in the market by providing advice-based, customer-centric service ("Making Money Make Sense"), and that propelled the bank to do things differently. The lines of business had invested individually in data marts and BI tools, but since customer relationships cut across the organization, BMO decided to undertake a consolidation project that would provide an enterprise approach to business intelligence.
BMO was looking to tie disparate pieces of information together across its lines of business to provide a richer understanding of the customer. "If you're going to be customer-obsessed, then you need to know your customers. And if that information is all over the place and you don't have the ability to analyze it, that's almost impossible to do," says Sherry Smeaton, Vice President of BMO's Information Management Group. Smeaton is responsible for more than 25 data marts used across the enterprise.
BMO has been a SAS customer for the past three decades, but SAS was only being used within a few highly specialized groups. After doing an assessment of the market, the organization decided the SAS Enterprise BI Server would be a key component of the bank's business intelligence strategy and an opportunity to further improve its customer-centric approach to business.
Smeaton's Information Management Group established a Business Intelligence Competency Center that brought pockets of SAS infrastructure into a shared, centrally managed environment. The group can now provide lines of business with access to analytical capabilities within two weeks – a process that used to take longer – and about a dozen business areas are already up and running on the shared SAS environment.
Now BI solutions are accessible to a broader group of users who, through this implementation, are now able to harness the power of analytics. "As we evolved our strategy around Making Money Make Sense, it became clear SAS would offer us an opportunity to get a richer understanding of our customers across the enterprise," says Smeaton. "With SAS, we're able to put a lot of power in the hands of our lines of business, but it's also relatively easy for them to use."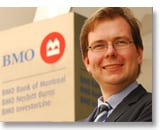 Chris Mihalus, Director, Business Strategy Development and Program Management Office
BMO Harris Private Banking, for example, is one line of business that's now able to take advantage of these new analytic capabilities. In the past, the private bank was able to rely on a more basic reporting infrastructure to serve its high-net-worth clientele. But BMO Harris Private Banking has grown dramatically, and not only does it have more data, but that data is much more complex.
Each month, the private bank would run reports for marketing and performance management purposes – a time-consuming manual process that involved sourcing data, cleaning it, manipulating it and generating reports in Excel or Access. With BMO's enterprise approach, the bank is now able to access a rich, robust set of data from across the enterprise in an environment where administration is already taken care of – all at a low cost, since it doesn't have to make an investment in hardware or software.
"We needed to enhance our ability to determine if our strategies were successful and identify best practices," says Chris Mihalus, Director, Business Strategy Development and Program Management Office, BMO Harris Private Banking.  "Now we have the capabilities to be able to execute our strategies and we can use our information resources to directly serve the customer. We're only at the beginning, but we're already seeing time savings, cost savings and revenue generation, and we're having the right conversations with clients. We will leverage our new reporting capabilities so that Relationship Managers spend less time looking for information and more time with clients benefiting from better identification of leads and opportunities. Now we can respond to a request from a particular region within hours."
BMO is now able to equip lines of business across the enterprise with a consistent, powerful, extendable set of reporting and analytical capabilities that can be leveraged to deliver a better customer experience. And this is helping the bank develop more targeted strategies around its customer base. For example, it's using SAS solutions to design a high-quality customer rewards program, which the bank has been able to roll out to customers faster – in some cases cutting production and testing time in half.
Smeaton reflects, "If we look at where we sit in the market versus where we sat two years ago, we've seen a big increase in our customer satisfaction levels.  That's been a key driver in helping us realize year-over-year growth."
By providing an enterprise approach to analytics, BMO has freed up the lines of business to focus on their expertise, rather than spending time figuring out how to use technology. "Now they can focus on solving real customer problems," adds Smeaton. "The way forward for us is around information and being proactive with our clients. What we're building here with SAS allows us to do that."
Copyright © SAS Institute Inc. All Rights Reserved.