TELUS optimizes bandwidth and service with help from SAS®
This is easier said than done. The telecom industry in Canada is in a constant state of flux in terms of usage patterns, demand for and supply of new products and services, and the introduction of new feature sets.
"Everyone feels the strain that all these new products and services bring. They are very bandwidth-intensive, and the service providers have the challenge of providing that bandwidth so that they can offer those products and services to their customers," says Zakria. "However, they are good problems to have as long as they are pointing toward the growth of our network and our customer base. We do not want to tie up dollars into investments that are not producing. " 
To address these challenges, TELUS began working with SAS to assist with its forecasting capabilities. According to Zakria, the decision to select and go forward with SAS was based on two key factors.
"SAS is a well-established, well-known industry leader in analytics. Its business intelligence solutions have been in place at TELUS for a number of years, and that provided us with the synergy that we would require to build a solution rather than go with a brand new system," he says.
Secondly, to do its forecasting, TELUS had been dependent on spreadsheets and a PC-based database, causing a problem with having too many spreadsheets resulting in more than one version of data.
"To make it more systematic, we felt the need to go forward and use a system that is well-known in the industry. There is no system like, or even close to, the SAS solution now in place," says Zakria.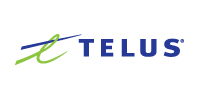 TELUS is using the SAS forecasting solution, consisting of SAS Enterprise Guide® and SAS Forecast Server software. According to Zakria, it's a straightforward, simple solution yet offers the statistical rigor required to do heavy-duty market analysis. Previously, TELUS could only factor in one or two variables in its analysis, such as a supply-demand scenario or marketing forecast. With a multivariable solution from SAS, it can provide a more realistic forecast that factors in other variables including gross domestic product (GDP) indicators, technology trends, population trends, network utilization statistics or so-called disruptive trends, such as a regulatory change or a new product announcement that can change the telecom market virtually overnight.
"These multivariables will give us enough data to back up our forecast and to make the right type of predictions for our planning on capital and operating expenses," he says. 
But it's not just about having the right data; it's also about making decisions faster. TELUS is pioneering the concept of just-in-time investments – the capability to invest dollars at the right place at the right time.
"My team is responsible for helping out all area vice presidents within TNO plan their operating and capital expenses based on network readiness in their specific areas, order volumes and making sure that we meet our delivery times," explains Zakria. "The company wants to be ready for prime time, and prime time is when a customer makes a decision to go with us. We want to make sure that we have the bandwidth and the network facilities ready for our customers whenever they sign up with us." 
Also, TELUS is a publicly traded company with a responsibility to its shareholders, "and we definitely want to spend our investment dollars responsibly and with the right business rationale. Like any public company, TELUS keeps an eye on industry ratios, like capital investment and revenues. The business results will definitely reflect the kind of steps that are being taken within the company, so that we can push the stock up and create the value for our shareholders."
Zakria says SAS is very much a partner in the area of business transformation at TELUS and is looking forward to taking this partnership even further.
"SAS connects with the big picture of our business goals," he says. "Using SAS to provide a 'heads-up' to get the network ready is an excellent thing, and that's the biggest business benefit for us."
Copyright © SAS Institute Inc. All Rights Reserved.