Visualize this: Billions of rows of data, instantly
How do you harness all of your data sources, make sense of billions of rows of data and display it in a way that snaps the big picture into focus and brings trends to life?
Answer: SAS® Visual Analytics. Designed with business users in mind, this new data visualization technology allows you to:
Explore big data.
Not an analyst? Not a problem – simply drag and drop data categories onto the visualization pane. In seconds, billions of records are analyzed and intelligent auto-charting displays the best visual for your data (see Fig. 1 below).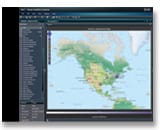 Fig. 1: Click to enlarge
Spot trends and opportunities - instantly.
Your exploration uncovers a surprising trend: In three regions, sales of Product A are up sharply, and now you want to forecast demand.  No need to call IT – just click on "Forecast" and get an answer in moments, not days. Want to add in sales information for other regions or products? You can create hierarchies on the fly (see Fig. 2 below).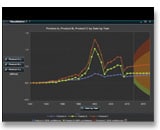 Fig. 2 Click to enlarge

Go mobile.
You've compiled your findings; now drag and drop your charts into a dashboard and simply publish to the Web and mobile devices. Your colleagues can access and drill down into your reports, collaborate using comments, and receive updates seamlessly – anytime, anywhere (see Fig. 3 below).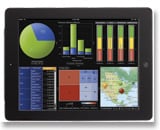 Fig. 3: Click to enlarge
What can you do with SAS® VISUAL ANALYTICS?
BANKING:
Calculate risk across entire portfolio: Analyze risk factors at every transaction level – in milliseconds instead of hours or days.
RETAIL:
Next best offer recommendation: Look at all sales data,  purchase history, social media data and more to quickly create well-targeted offers.
MANUFACTURING:
Drive better yield, utilization, and satisfaction: Proactively identify and resolve product defects, production issues and inefficiencies.
TELCO:
Faster action against churn: Quickly and easily identify customers at the exact moment they're considering switching to a competitor, and determine the best action for retention.