Bridging the marketing gap
3 essentials of marketing analytics to take you from theory to execution
Everybody's talking about customer analytics and how it can help companies market more effectively. But for many marketing professionals, there's a gap between theory and execution – and it's getting wider every day.
Marketers know, in theory, that gaining insight from the incredible explosion of new digital information being generated, collected and stored requires analytics. And it's this insight that marketers desperately need to keep up with today's tech-savvy consumers as they comparison shop online, blog and tweet reviews that can influence millions – and use spam filters to avoid marketing they don't want to receive. If marketers don't deliver product and service information to consumers that's personally relevant, timely and delivered via their preferred channels, they'll ultimately drive them away.
To be effective in this new environment, organizations must base their marketing processes and strategies on an analytical framework. Here are the three essential components you need to get started:
ONE: Analytically driven customer segmentation
Customer segmentation is a basic component of most modern marketing strategies. The process involves dividing a customer base into groups of individuals who are similar in specific ways that matter in the context of your marketing programs. It enables companies to target groups effectively and allocate marketing resources appropriately. The overall benefits of segmentation include: profitable campaigns that focus on customers most likely to buy a product or service; identification of the most and least profitable customers; and more loyal customers, which leads to higher customer value and increased profits.
There are two types of segmentation to consider: foundation and targeting segmentation.
Foundation segmentation creates core segments that enable marketers to deliver consistent marketing treatments as part of a long-term customer strategy. All customers must be included, but each can fall into only one segment. Some of the key attributes of foundation segments include: value, profit, attrition, risk and demographics.
Targeting segmentation identifies customers with specific needs and preferences. Not all customers may be included and customers can fall into multiple segments. This type of segmentation is useful for specific marketing programs and campaigns, and identifies customer segments that are most likely to respond positively or customers most likely to leave for a competitor. It is focused on short-term marketing activities that deliver highly relevant messages and offers to recipients.
Analytics enables you to go beyond foundation segmentation to targeting segmentation, allowing you to execute more effective, sophisticated campaigns with messages and offers that are highly relevant to recipients.
Questions you can answer with predictive modeling
Why will my customer leave?
When will my customer leave?
Who can we retain?
Which will buy? What will they buy
When will they buy?

TWO: Predictive modeling
To know what customers will do in the future, marketers have to understand what they did in the past. Predictive analytics provide insight into the behavior patterns of a company's best and worst customers. By having insight into customer attitudes, behavior, profitability and risk, marketers can make better decisions to improve marketing outcomes. The goal is to use one or more predictive modeling techniques to identify target populations that are likely to respond positively to a specific campaign or marketing activity.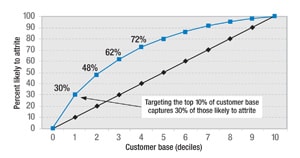 Figure 1

Consider what happens when a telecommunications company does a normal random marketing mailing versus a mailing based on predictive modeling. In this example, the company uses predictive modeling to generate the graph in Figure 1, which analyzes the first decile of customers (the top 10 percent by revenue) and shows that 30 percent of these customers have a high likelihood of attrition – a key group of customers for any company to focus its retention efforts on.
The graph also helps the marketing department focus its retention activities on key target segments (and save the money to spend elsewhere). Failing to target funds in this way leads to diminishing returns – but getting it right means the telecommunications company benefits from:
Increased response rate by contacting the right customers.
Reduced campaign cost by selecting the customers most likely to respond.
Stronger customer relationships by understanding the target population and conveying messages that are highly relevant to it.
THREE: Marketing optimization technologies
Issues such as competing divisional business goals, managing multiple marketing programs against constraints – such as channel capacity, budgets and customer contact policies – and internal politics can make decisions about which campaigns to send to which customers very difficult, especially for multiproduct companies. Factoring in and weighing all of these variables requires far more than just experience and human intuition. Marketers need optimization, a technology-based solution that applies mathematical techniques to maximize economic outcomes by making the most of each individual customer communication.
For example, by using what-if analysis, marketers can increase campaign ROI by analytically determining the right offers for the right customers, by taking into account things such as customer preferences, propensities, profitability, costs and contact policies. Targeting offers will effectively lead to higher response rates, improved channel effectiveness and reduced spending. It also means fewer deleted e-mails and fewer unwanted direct mail solicitations.
In addition, optimization analytics can help increase organizational efficiency by quantifying where changes in staffing and budget will really pay off, where money is being left on the table or where there is any unused capacity.
Given the rapid changes occurring in the world of marketing, companies can't afford not to employ analytically driven marketing strategies and tactics. With an integrated analytical framework for customer intelligence, marketers can make smarter decisions, solve more business challenges and, ultimately, get more insight from customer data to drive optimal marketing performance.