10 steps to a greener supply chain
Optimize your supply chain for a greener planet
Sustainability initiatives are gaining traction with manufacturers. Driven by anticipated regulations, consumer demand and brand image pressures, companies of all sizes are extolling their environmental and corporate social responsibility (CSR) programs. On the flip side, the consequences of not being socially responsible or not environmentally friendly can be harsh. Remember Tony Hayward, BP's recently expelled CEO?

Challenged by current economic pressures and operating under razor-thin margins, manufacturers are struggling to balance the market demand for social responsibility with the crucial business goal of profitability. As they search for answers, they are overlooking the opportunity lying within their existing supply chain data.

By harnessing this data and applying advanced analytic techniques such as statistical analysis, forecasting, predictive modeling and optimization, manufacturers can not only improve the efficacy of supply chains but also make huge strides in the pursuit to be green.

The real challenge lies in where to start. Here is a list of 10 key initiatives that can get you on your way to becoming a leaner and greener organization.

1 Demand-driven forecasting. Forecast accuracy matters when it comes to green. Producing more than required results in excess use of raw materials, higher energy consumption in production and storage of excess units, and recycling or disposal costs for obsolete stock. Understocking, on the other hand, can result in expediting and air-freighting merchandise from suppliers, ultimately increasing your carbon footprint. By accessing and understanding consumer demand signals and analyzing how sales and marketing strategies affect demand, companies can more accurately forecast demand and produce just the right amount. The results? Higher profitability, improved customer satisfaction and reduced carbon footprint.

2 Integrated planning across divisions. Collaboration among sales, marketing, finance, operations and demand-planning divisions of the organization is crucial for delivering the right product mix in the right quantity at the right location. Lack of integrated planning can not only result in lost sales but can have a huge "green" impact. Take the example of a large consumer-packaged goods manufacturer whose marketing department decided to run a promotion on the West Coast without realizing that the West Coast production plant was closed for maintenance. To fulfill demand, the company had to ship products from its East Coast facility, resulting in complete erosion of profits as well as increasing its carbon footprint.

3 Optimized inventory. Once demand is forecasted and goods are produced, ensuring that these goods are at the right location, in the right quantities can be a challenge with implications for the bottom line and sustainability. By optimizing inventory across multiple echelons in the distribution network, you can stock only what is necessary at the right locations, and reduce waste due to trans-shipments, spoilage and obsolescence.

4 Network planning. Distribution network optimization – which involves shipping and delivery – has a huge impact on both distribution costs and sustainability. By optimizing the distribution network, companies such as MillerCoors have reportedly cut 45 million truck miles travelled in a year, reducing carbon emissions by 75,000 metric tons.

5 Quality improvement. Initiatives that address product and manufacturing process quality can help reduce scrap, improve yield and make manufacturing processes consistent. Resulting benefits include lower inventory levels, reduced or eliminated product recalls, and reduced energy and material consumption. Imagine the green impact of quality initiatives that led POSCO, the world's largest steel manufacturer, to reduce its inventory by 60 percent from 1 million tons to 400,000 tons.

6 Supply base optimization. Analyzing spending and evaluating suppliers to understand who your top suppliers are is a standard supply management practice. Taking it a step further to understand their environmental policy can have a huge impact on your image and bottom line. Remember Mattel's woes when a supplier used lead-based paint on children's toys? No wonder industry leaders, such as Proctor & Gamble, IBM, BASF and most notably Wal-Mart, have made supplier sustainability integral to their sourcing processes.
By optimizing the distribution network, companies such as MillerCoors have reportedly cut 45 million truck miles travelled in a year, reducing carbon emissions by 75,000 metric tons.
7 Supply chain visibility. Supply chains are riddled with disruptions. Weather, supply shortages, quality and transportation issues can all ruin your well-laid plans. Visibility to raw materials, work in progress inventory and finished goods, as they move from suppliers to production to distribution and finally to customers can help you plan for those disruptions and lead to huge cost and green benefits. Imagine if you could improve on-time delivery from 85 percent to 95 percent like Klune Industries, minimize reordering of duplicates and eliminate expedited orders.

8 Predictive vs. preventive maintenance. Asset-intensive industries spend huge amounts of money in maintaining those assets for optimal performance. Unexpected breakdowns or suboptimal performance can cost millions of dollars in lost uptime, poor fuel efficiency and even increased emissions. The ability to access and analyze diagnostics data from remote sensing devices can enable companies to detect emerging issues earlier and determine root cause to reduce and even plan for such events.

9 Harmonized processes and systems. Supply chains are complex, global and interconnected, at times with very inefficient processes. Compounding the problem are archaic legacy systems that don't talk to each other, organizational silos and turf battles that make information sharing difficult – causing ineffective decision making, waste and energy inefficiencies. Imagine the savings and waste reduction if product failure data from the field can be used to determine root causes early enough to make changes in the design and production phase.

10 Global infrastructure and production network. Manufacturing companies have done a good job of establishing production facilities and sourcing centers in some of the emerging markets, but they still have a long way to go in terms of establishing distribution and service infrastructure. Consider the carbon footprint of a North American manufacturer of consumer electronics that serves its Asian and European customers out of its home base. Building facilities closer to these new markets has upfront costs, but can go a long way in improving customer satisfaction and sustainability.

Companies must realize that the real opportunity for profitability, as well as environmental guardianship, lies in increasing supply chain operation efficiency. Avoiding material consumption at the front end is more effective than trying to efficiently dispose of the product afterward.
Bio: Rita Jain is the Global Marketing Manager for Supply Chain Solutions for SAS.
This article first appeared in SupplyChainBrain magazine on Oct. 8, 2010.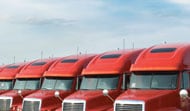 This story appears in the First Quarter 2011 issue of