Analytics do the strangest things
Putting SAS to the test in some unusual situations.
From preserving rare animals to producing rare chemicals to selling rare wines, the industries and organizations using analytics as the backbone to problem solving have grown exponentially. Companies are using SAS to answer many standard business questions – and a few not-so-standard questions such as:

"How do we protect the Gouldian finch from extinction?"
"Which would make a better biofuel: switchgrass or wood chips?"
"How long has that 1986 Bordeaux been on the shelf?"
 
Read on to see some of the more unusual uses of SAS, and learn how you can apply analytics to find your own answers.

Australian Wildlife Conservancy uses SAS® to preserve endangered species
Managing and monitoring 21 wildlife sanctuaries covering more than 2.5 million hectares (about 6.2 million acres) can mean millions of pieces of information to analyze. But conservationists like Dr. Sarah Legge, the Australian Wildlife Conservancy (AWC) National Conservation and Science Manager, must clearly understand what's wrong before they can recommend potential remedies.

AWC sanctuaries are home to 60 percent of Australia's non-marine mammal species and 80 percent of its mainland bird species. Mornington Wildlife Sanctuary, in central Kimberley, protects more than 330 varieties of birds, reptiles, amphibians and mammals and more than 700 species of plants, some considered to be in danger of extinction or protected in no other place.

Using JMP® statistical discovery software from SAS, Dr. Legge and her colleagues make meaning out of the large quantities of data collected to ensure the survival of rare plants and animals, like the tiny and exotically colorful Gouldian finch (fewer than 2,500 are left in the wild). Mornington protects one of the largest remaining populations of this exquisite bird.

"We can now make much better use of the data we collect," says Legge. "SAS' statistical discovery tools give us the ability to interpret the data more clearly, and this will make us better equipped to address the threats to Australia's wildlife. So SAS has now become a great supporter of biodiversity conservation here in Australia, as it is elsewhere in the world."

Novozymes uses SAS® to reduce the cost of turning wood chips into biofuel 
"Rethink Tomorrow" is Denmark-based Novozymes' slogan, and one of the areas where it's doing so is by looking for more efficient enzymes for producing biofuels. In cooperation with its customers across a wide range of industries, this bioinnovation leader is helping create industrial biosolutions for a greener planet.

JMP statistical discovery software from SAS is an integral tool in Novozymes' research and plays a key role in helping researchers design experiments, analyze data and present results. One of the ongoing objectives of Novozymes' researchers is to consistently improve the enzymes that render a more cost-effective and sustainable process for commercially viable biofuels.

Within the next-generation cellulosic ethanol are biofuels made from feedstocks including cobs, stalks and leaves from corn, wood chips, paper and switchgrass. "Today all that is mainly left in the field to rot," says Novozyme researcher Jesper Frickmann. "But it could be collected, and the cellulose from that could be converted. We're trying to make all of this happen."

And they are enjoying great success. Research conducted by Frickmann and his colleagues has resulted in a huge reduction in the cost of producing biofuels.

The Wine House uses SAS® to discover $400,000 in 'lost' inventory
Economic times may be tough, but Bill Knight, owner and president of The Wine House, is toasting a 100 percent return on his investment in SAS Enterprise BI for Midsize Business. In fact, the first day the SAS application was live, the wine retailer discovered 1,000 items of wine that hadn't moved in more than a year.

"That's significant cash tied up in inventory," says Knight. "We had a huge sale to blow it out, generating $400,000 in capital in one weekend, and just in time, because in today's economy, we'd be choking on that inventory."

With SAS, Knight now has a real-time view into his inventory. He can drill down by department, supplier, margins, price points, age – pinpointing slow-moving bottles to promote them and move them out.

"This is a tremendous benefit for a retailer, especially in this economy, to know exactly what's going on in the business in a timely way with as much detail as needed," says Knight. Using SAS, The Wine House has reduced its aged inventory by 40 percent and learned to offer customers more of what they want. "Our reports showed us that people were still buying wine, they were just buying $20 bottles instead of $100 bottles, so we took action to shift our inventory to lower-priced merchandise," says Knight.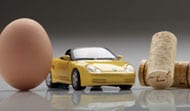 Read More

Get the full stories on:
This story appears in the Second Quarter 2010 issue of