The best days of business analytics are upon us
Start small and start where you are – but start now with analytics
I like to draw inspiration from scientists and those who study science. Lately, I've been inspired repeatedly by Martin Rees, author of Our Final Hour: A Scientist's Warning, who emphatically asserts that the most important location in space and time (apart from the big bang itself) is here and now. In my field, I translate that to mean: The best days of business analytics are upon us.

While researching my latest book, The New Know: Innovation Powered by Analytics, I traveled to 60 cities, examined 20 vertical markets and talked to executives at just about every level of more than 200 enterprises about business analytics (the practice of statistics, forecasting, data mining, operations research, data management and reporting). Several truths about business analytics consistently emerged in all locations:
EVERYONE recognizes that there is much more data to be analyzed.
Senior managers believe that there is critical business and mission insight hidden in this data.
Senior managers are frustrated and confused as to why that data is not being converted into value.
Some organizations are breaking away (i.e., creating competitive advantage via the use of business analytics).
Can every organization be world-class analytically?
In premodern times, leaders had to be "born to greatness." Kings were kings and peasants were peasants and never the twain shall meet. One's position in life was a function of one's class or caste, a function of where one started out. One of the defining tenets of modernity is that EVERY person can aspire, and perchance become, whatever he or she chooses.

Arshile Gorky, the self-invented painter working in 1920s New York, proclaimed happily, "This was America. You could be what you wanted to be." Napoleon, who himself exemplified the modern concept that people of humble origins can rise to leadership positions, frequently remarked, "In every soldier's knapsack, there is a marshall's baton." Similarly, EVERY organization can aspire and choose to become a world-class analytical competitor.

Barriers remain
Business analytics exists within a social and psychological context. Joseph Finder, the best-selling mystery novelist, while discussing analytics with Malcolm Gladwell, draws attention to a widely held, but rarely discussed cultural stereotype analysts need to be aware of when he remarks, "A lot of my bad guys are number crunchers … It is easy to depict the analyst as villain – cold; inhuman …"

In popular culture, human thought is heroic while machine or rationality-assisted thought is typically viewed as inferior and frequently evil. Who can forget the climactic moment when the hero of George Lucas' 1977 mega-hit Star Wars, Luke Skywalker, shuts off his targeting computer, lets the Force be with him and saves the universe? It was a triumph for human judgment and intuition over cold automation.

Writers and liberal arts types aren't the only ones who question the use of analytics over instinct. Bob Lutz, Vice Chairman at General Motors, speaking on the floor of the Detroit Auto Show, chastised practitioners of analytics as lacking common sense:

" ...You get some people in this business who are so bright they can convince themselves that it isn't really night time – it's really day time. They will give you 15 reasons why you are not seeing the sun – whereas Ed Whitacre [GM Chairman and Chief Executive] says, 'if it's dark, it must be night.'"1

Mistakes have been made with analytics. In the financial arena, pundits paraphrase Winston Churchill observing that "never has so much been damaged for so many by so few." However, the winds of change are upon us. Pioneers like Jim McCann, CEO at 1-800-FLOWERS.COM, understand that "analytics has changed how we work." History tells us that when bridges collapse we don't do away with engineers and architects; we move forward and find better and smarter builders. Similarly when analytic models fail, we don't do away with analysts. We find better models and smarter analysts.

A new era awaits
The premoderns – living in the Middle Ages – DID NOT KNOW they were living in the Middle Ages. All they knew was that life was "nasty, brutish and short."2 They had no expectation that things would get better. Analysts living in the second decade of the third millennium fail to appreciate that the concept of "progress" was not envisioned by the general population until about 1800.

Analysts need to be era-aware. We live at a moment characterized by a deluge of data and infinite opportunity associated with its analysis. There has never been a better time to be involved with analytics. Hal Varian, Chief Economist at Google, tells just about every audience he addresses, "… the sexy job in the next 10 years will be statisticians."

A new cadre of analytic leaders is about to emerge. These pioneers will have a little Columbus (discoverer of new worlds), a lot of Machiavelli (understanding of organizational politics), a little Caesar (i.e., willing to cross organizational Rubicons) and a lot of Alexander the Great (able to record and demonstrate accomplishments). If you don't have someone like that at your organization, I suggest you start looking right now.
Bio: Thornton May is Executive Director and Dean of the IT Leadership Academy. His book, The New Know: Innovation Powered by Analytics, positions analysts as heroes of the age we are about to enter.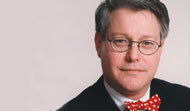 Thorton May, IT Leadership Academy
Read More
Learn more about the debate over analysis vs. intuition
Check out this white paper on "The case for investing in business analytics"
---
HOW IS ANALYTICS TRANSFORMING YOUR WORLD?

We're living in a new age of analytics, says Thornton May in his book The New Know. How does this affect us personally and professionally? In at least 10 ways, says May:

1. You will be expected to do something with information. 
2. There really is more to know.
3. You will have to know more about knowing. 
4. Brain science and decision science are converging.
5. The environment is changing our brain.
6. Information management is the essence of leadership.
7. A more connected world.
8. Math matters.
9. There are significant downsides to not knowing.
10. Knowing can change the world.

Order  The New Know .

This story appears in the Second Quarter 2010 issue of