Analytics: Hot, fresh and on demand
With shrinking budgets and IT staffs, organizations are finding answers with hosted solutions
Your IT budget is shrinking and your IT department is busy with maintenance and administration of hardware, e-mail and security applications. You don't have enough capacity to implement new technologies or integrate existing technologies, and the organizational demands to provide more information for an increasingly diverse population of users continues to increase.

You know there's valuable data inside the organization, but there's no good way to access it or make sense of it all. Whether you're a CEO at a growing medium-sized business in Germany, a VP of marketing at a regional bank in Italy or the head of technology at a US K-12 school district, expectations for performance continue to increase while budgets are slashed and the skill sets to support sophisticated data analysis are not available.

The answer? SAS Solutions OnDemand offer big benefits with little footprints. Considering the ubiquity of the Internet, the economic and business benefits for hosted solutions can be leveraged by organizations regardless of their geographic location. Firms based in Germany, Belgium, UK, Canada and Asia have embraced the speed of the hosted-solution delivery without the need for large, up-front capital investments.

The organizations featured here are saving time and money, and gaining immediate use of the latest software with on-demand solutions. Their data is secure and available virtually at any time through a high-speed Internet connection.

Spread analytics throughout the organization
McKesson (NYSE: MCK) – a health care company that distributes pharmaceuticals and medical supplies and sells health care information technologies – is winning big with SAS. Stephen Buck, Vice President of Analytic Services, heads a team of 10 analytic professionals in the Pharmaceutical Division. By introducing SAS Solutions OnDemand, Analytic Services has increased productivity and creativity.

Analytic Services used to operate in silos, with team members doing individual analytics, data pulls and manipulation all in a decentralized manner. The staff would spend months preparing data extracts and prepping for analytics instead of actually performing the analytics necessary to keep the business moving forward. After a specific analytic project was completed, the team deleted all the data compiled for analysis – even if it were needed for the next project.

By eliminating silos and putting data in a centralized place – housed securely at SAS – the necessary basics of getting started are taken care of and staff members are both more productive and focused on attacking issues and preventing problems rather than preparing for them. For example, McKesson has taken sales data and combined it with all of its program enrollment information to give managers a clear picture of which programs, products and services are keys in driving customer loyalty. 

Spot student trends
The Wilson County School District in Wilson, NC, was data-rich and information-poor with 24 schools, 12,600 students, and robust data from absence and discipline issues to budget information and test scores. Before the district began using SAS OnDemand for K-12, however, this information was scattered across several different systems. There was no infrastructure in place to ensure accuracy, and the data was only made available at the end of each school year or later.

With SAS OnDemand for K-12, Wilson County Schools gained:
A solution that allows school leaders to easily spot trends and drill down into data to uncover root causes.
Quick and easy access to data from disparate systems via a secure, Web-based portal without relying on IT to pull reports.
Help gathering, cleansing and analyzing ALL data so school leaders can spend more time solving pressing issues and making fact-based decisions.
Rapid implementation without the burden of additional servers, storage and upgrade costs.
The technology grants all levels of employees in the school district secure access to information that allows them to proactively track developments and address issues. This eliminates the need for school leaders to depend on IT to pull data for them – everyone has the power to retrieve information. "People aren't sitting there waiting for your data request. They're doing other things too," says Larry Price, EdD, Superintendent of the Wilson County School District. "Now I have access to quick information all in one place and that is just absolutely fabulous for any school superintendent."

Faster decisions about drug development
Developing drugs involves managing clinical trials, and these days that means managing them globally. That can be a daunting task. With the deployment of SAS® Drug Development, Daiichi Sankyo manages its clinical trial data without the need of a costly clinical trial data management system.

Using SAS Drug Development as the centerpiece of a suite of hosted clinical solutions, Daiichi Sankyo Pharma Development (DSPD) has innovated its clinical trials processes by outsourcing the systems infrastructure and support, allowing staff to focus on core research functions. DSPD is a division of Daiichi Sankyo Inc., the US subsidiary of Tokyo-based Daiichi Sankyo Co. Ltd.

"We need to maintain rapid access to our global data to make informed decisions, and it has to be done cost-effectively," says John Wise, Senior Director of Informatics. "We want to spend money on drug development, not IT."

The SAS solution was fully functional within six months of inception. With on-demand access to clinical trials data via its SAS clinical data repository, Daiichi Sankyo realizes savings in time, headcount and money – in the millions of dollars per year.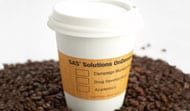 This story appears in the First Quarter 2010 issue of