No confusion about customers at Confused.com
Using SAS® to analyze millions of customer contacts leaders to crystal clear insights for the UK's best-known price comparison Web site
Remember the bad old days when getting quotes on car insurance involved dealing directly with the insurer and filling out a mind-numbing number of repetitive forms? That all changed when Confused.com, the first insurance aggregator Web site, launched in 2002. Owned by UK insurance provider Admiral Group, Confused.com is designed as a one-stop shop for automated online price comparisons, helping consumers find the right deal in car, home and travel insurance as well as utilities, personal finance products such as credit cards, and more.

To support Confused.com's continued growth – to help it understand customers and make customer contacts more relevant and thus more profitable – the company has implemented SAS® Analytics.

Confusing changes in the market
According to Tom Beverley, Customer Director at Confused.com, the major driver for implementing SAS was increased competition among aggregator and price comparison Web sites, with higher acquisition costs resulting from extensive TV advertising. And the business opportunity continues to grow, with the recession meaning consumers want to "shop around" even more, further increasing traffic to the site. "Our main requirements for SAS were to reduce our cost of offer, bring down marketing costs, improve cross-sales with other products on the site, and improve retention marketing," says Beverley. "We wanted to improve the level of customer insight available. We are also developing a lot of personal finance products that require an improved level of one-to-one targeting."

Confused.com is responsible for high levels of media expenditure, an investment leading to a large data store that includes Europe's largest motor insurance quotation customer database; data is stored in an SQL Server. A logical next step was to ensure that the company had the people, processes and technology to transform this data into usable insight.

"Previously, customer insight was limited to information gathered via the car insurance quotation process, with no segmentation apart from very simple demographics like age and TV region," Beverley says. The business used e-mail as virtually its sole customer contact marketing channel, delivered via a third-party provider. The opportunity was to become far smarter in targeting to improve uptake and response rates. Indeed, Confused.com already had millions of customer contacts, with a high proportion including active e-mail addresses; this potentially valuable resource was waiting to be exploited by the right analytics.

SAS: the clear choice
Confused.com considered a number of options, including SPSS, before choosing SAS based on its proven analytical capabilities. "I'd worked with SAS before and was sure it provided what we needed," says Beverley. "On the analytics side, I knew we'd be able to do things like propensity models and segmentations, and have the ability to crunch through large data volumes and bring disparate sources together."

SAS delivers a versatile toolset for users to access data from anywhere and then transform it into usable insights. Data sources at Confused.com include the SQL-based main customer data warehouse, which gathers data from all the Web site interactions, and data from the third-party e-mail services provider. The business plans to add more sources including external data from information provider Acxiom, and also tying Web analytics tools into SAS.
Clarity on who buys what, why and when
Beverley describes the company's use of SAS as a "server-based solution that interfaces with our data warehouse to provide data on all customers – we update it every week – and then carries out propensity modeling on who buys what, why they buy it, when they buy, and who are the best customers to target with different products like home insurance, utility services and, most importantly right now, financial services products."

Initially, the company will focus on two types of segmentation: customer lifestyle and customer life stage. Results from analyses are already used, for example, to locate variables, enhance selections and improve targeting in e-mail campaigns. Beverley provides an example: "In our home insurance campaign, we use SAS to highlight the best customers based on a number of predictive variables. We can probably get 70 percent of applications through, say, 20 percent of the e-mail campaign, which is key for us in terms of data collection and reducing how many e-mails we send out, making sure it's relevant. We do a similar thing with credit cards, using SAS to target fewer people to achieve more uplift."

Confused no more
Beverley continues, "SAS gives us a far better idea of who we should target. Before, the home insurance campaign was fairly basic and used just a couple of variables." A direct feed is planned with SAS used to support the data selections that drive the e-mail campaigns. The analytics now available will also feed into contact channels new to Confused.com, including direct mail and SMS, while other options being investigated include outbound calling and social networking sites. "It's early days, but I believe how we use SAS will have a significant impact on our business. I can certainly see us improving customer retention significantly and improving the relevance of campaigns. And there's a lot of potential in these analytics to improve on-site processes and help inform new product development, so there are wider impacts in addition to improved targeting and acquisition marketing.

"Compared to a single product provider, in credit cards, car insurance or elsewhere, we know certain types of customers will pick a certain type of provider. But we can offer consumers many more options, we have far more data and so have a far more comprehensive overview of the market and of customer behavior. So there's a lot we can tap into. At Confused.com, we know we're sitting on a very interesting repository of data – and I don't think we'll ever exhaust the analytical possibilities available in terms of both customer and market behavior."
Bio: Stephen Fenerty is a freelance writer based in Southampton, England.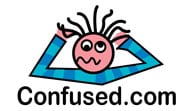 Read More
Visit Confused.com on the Web
Tune into this Webcast to "Outperform the competition with analytics"
Explore best practices in analytics with these resources
---
5 tips for fit finances from Confused.com
Follow these golden rules from Confused.com to get on the road to a healthy financial future.

1. Pay off debts first -- Pay off your existing debts before you start to save (with the exception of mortgages and student loans, which are long-term and relatively cheap debt).
2. Borrow wisely -- Despite the above rule, borrowing is a part of modern life. It's often practical to have credit cards and loans, but shop around for the best loan and credit card rates.
3. Save, save, save -- If you have paid off all (or most) of your expensive debts, the first thing you should do is start saving up a rainy day fund. The equivalent of at least three months' salary is a good starting point to cover unforeseen expenses or loss of income.
4. Proper pension provision -- Pensions are an important financial step to setting up a comfortable retirement. If you haven't started saving into a pension scheme, it's a good idea to start now.
5. Be disloyal -- Don't be loyal to your savings provider, credit card issuer, mortgage lender or insurance provider. The best deals tend to be available to new customers, so shop around, switch and save.
This story appears in the First Quarter 2010 issue of