Saving the world at work
What companies and individuals can do to go beyond making a profit to making a difference
Tim Sanders' new book, Saving the World at Work, reveals how leading companies like SAS, Google, Timberland and others go beyond making a profit to making a difference in the lives of their employees and their communities. Today, customers, employees and investors are demanding that companies focus on their social responsibilities – not just their bottom lines.  As a result, companies that don't participate in what Sanders calls the Responsibility Revolution risk becoming obsolete. In this excerpt, Sanders offers concrete suggestions on how all of us can help our companies make the world a better place – now and in the future.

There is a revolution under way, one that will change the way people define the role of business.

There is a revolution under way that will undermine billion-dollar companies if they don't respond to it, and make niche companies that embrace it enormously valuable.

There is a revolution under way that will transform our reasons for buying products and services. This revolution will be more influential than the quality revolution of the 1970s or the Internet revolution of the 1990s.

There is a revolution under way that will rival compensation and benefits as the primary reason to take a job.

If you're not paying attention to this revolution, you and your company may be running out of time to participate – and thrive in the post-revolutionary era.

The Responsibility Revolution has arrived. It demands that companies make a difference to society – not just indirectly, by producing jobs and profits, but directly, through their products, through their manufacturing methods and operational systems, through their environmental efforts and community outreach.

The consumers and customers leading this revolution will screen your company to see if it is socially responsible. Then, and only then, will they reward it with their loyalty.

The Responsibility Revolution represents a new consciousness among consumers concerning why we buy or don't buy, what we use or don't use. We want to make a positive difference with our wallets, and through our actions, to make the world a better place.

There is also a new consciousness among employees. We want to find greater meaning in our lives through our work. We want to be associated with companies that practice good corporate citizenship.

There is a new consciousness among investors as well. We want to shape the future by putting our money into companies that match our social values.

Consumers, employees and investors are changing business. They expect the companies with which they do business to join them in taking responsibility for the planet on which we all live, and for giving back to the larger world.

This is not a revolution that can be ignored. It will not go away. If your business isn't socially responsible in the future, the forces of good will ride into the market like the cavalry, surround it, and choke off your supply lines. If you work in a company that is not socially responsible, whether it is a FORTUNE Global 500® company or a mom-and-pop operation, it will feel the impact on its profits and revenues, and your colleagues could lose their jobs as the company buckles under the weight of this new paradigm.

You don't believe me? Consider this: Today, 65 percent of Americans are willing to switch to a brand associated with a good cause if price and quality are relatively equal. And 66 percent participate in at least one social cause-generated boycott each year.

In a recent study by the global consultancy The Work Foundation, 10 percent of young job seekers identified themselves as "ethical enthusiasts," more concerned about the ecological values of their potential employer than they are about starting take-home pay. One-third of these job seekers will be looking for a new position soon, because they feel their employers' contribution to the community is below par. Two-thirds of this year's college graduates claim they will not work for a company with a poor reputation for social responsibility.

Even more like-minded individuals will hit the workforce in 2010. In a 2006 study of fourteen- to eighteen-year-olds (commissioned by ad agency Energy BBDO), 78 percent said money "was less important to them than personal fulfillment." They went on to work for "companies that promote equality, a green environment and social responsibility." For them, purpose trumps paycheck.

So who is behind the Responsibility Revolution?

I call the people who compose its growing chorus the Them Generation. Many of them were born after 1980, but its membership includes everybody, of any age, who is focused on "them" – that is, on others.

The premise of Saving the World at Work is simple. I want to recruit you, and train you, for the Responsibility Revolution. I want to help you feel good about your company and grow more good within it. I want to help you feel more fulfilled by your job, by helping your company see the value of giving back to the larger world.

I believe the Responsibility Revolution will redefine innovation, branding, leadership, management excellence and courage in the business world – because being good will not be easy. Individuals and businesses will need to develop what I call "business social skills."

Among these skills: How can I properly link my personal goals with my company's business goals and add social value? How can I do it without a great deal of funding? How can I help to reduce my company's social inefficiency?

For many of you, this challenge will require developing a new type of business acumen. You may need to undo much of your on-the-job training in traditional P&L statements. You may have to learn to factor in your environmental footprint and the cost in human profits and losses. You may have to shift your thinking from narrow monthly or quarterly time frames to a much longer time horizon. You may have to learn how to design – or redesign – your business life to create a win/win for yourself, the company and society. You may have to ask tough questions aloud, such as "Is this good for the company? Is this good for the world?"

You will most likely have to learn how to measure items you've never been taught to measure before: quality of life, clean air and water, the financial impact of goodwill, the financial risks of relying on nonrenewable and unsustainable materials, and the business value of improving local economic conditions.

I am speaking here to everyone from the mailroom to the boardroom. No matter who you are, or where you work, or how high up or low down you are in an organization, you can make a difference. You can shape your community. You can become the catalyst to produce outreach programs that embed themselves throughout your entire company. You can change the world at work, even if you don't have a title and have never fancied yourself a leader.
Bio: Tim Sanders is the author of Love is the Killer App and a top speaker on the lecture circuit. From 2001 to 2005, he was the Chief Solutions Officer at Yahoo! Inc. where he worked on next-generation business strategies. He has been featured in Time and USA Today and has appeared on Today, CNN, Fox and Friends, Tucker and national radio. He lives in Los Angeles, CA.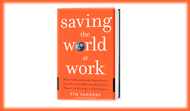 ---
EXECUTIVES SPEAK OUT ON SUSTAINABILITY

Read what leading executives at The Premier Business Leadership Series conference in Las Vegas had to say about sustainability.

On challenges for companies committed to sustainability:
"I see three big challenges. The first is building sustainability into everyday processes.  Second, most companies think in terms of their own operations and footprint yet most of the impact is in their supply chain. Third, sustainability means different things in different locations. You can't have one size fits all for these issues."

On the need for data to support sustainability efforts: 
"It's a great opportunity to use forecasting. If you push out a forecast based on historic patterns and you know what's coming, you can give your consumers something valuable."

From a utility company whose customers are striving to conserve electricity: 
"We have to get tools and data, and we have to get customers to buy into it. If we don't find a way to help our customers meet their objectives and profit from that, we are not going to be in business 20 years from now."
This story appears in the Second Quarter 2009 issue of