Creating value in a down economy
Want to turn losses into profits? Identify your most – and least – valuable customers
The current financial crisis has many organizations reporting alarming drops in profitability, with decreases ranging from 28 percent to more than 200 percent. Whether you call it a down economy, a "credit crunch" or a recession, the truth is that few industries have avoided the impact.

What if you could deliver 400 percent of last year's net income without increasing revenue or laying off staff? What some might consider a pipe dream could be reality with today's technology and experience. Jonathan Hornby, Senior Marketing Manager for SAS Performance Management, sat down with Peter Turney, CEO of Cost Technology, to explore how activity-based costing (ABC) can identify your profitable customers – helping you potentially recover your losses and survive the down economy.

---
Hornby: Let's get right down to it. 400 percent is impressive. How can you offer that much value?

TURNEY: It's true. Potentially, 400 percent of the figures listed on your profit-and-loss statement could be recovered as profit.

The real value is exposing the hidden sources (or drivers) of cost and profit associated with the actions we perform every day. This value is visible in what we call the "profit cliff": an enduring picture of profitability that appears in just about every ABC implementation over the past 20 years. The graph of the profit cliff consistently shows that the best 20 percent of customers contribute profits equal to 500 percent of earned income, while 60 percent break even at best; the worst 20 percent destroy 400 percent of earned income.

If you don't know which customers are destroying profits, your earnings will be a fraction of its potential. Plus, you won't know which decisions will capture that value.

Let's put it another way. If market segmentation analysis relies on incorrect information about profitability, efforts to grow sales could be directed toward the 20 percent of customers that are unprofitable. In reality, these efforts will accelerate the destruction of profits.

The real value is not in the money saved, but how you use information to adapt in challenging environments such as today's economic spiral.

It's a similar story in the public sector. Government is under intense pressure to do more with less. Resolving this pressure requires tools that reveal the opportunities to increase efficiency and effectiveness.

For both public and private organizations, these tools tell you which activities contribute most to strategic goals and the delivery of services; where the opportunities are to reduce costs; which processes and activities should be outsourced; and does the budget accurately reflect our strategic priorities and the expected demands for our services?
Hornby: The value you reference comes from using activity-based management (ABM) techniques. Can you explain to our readers how this differs from traditional financial management approaches?

TURNEY: Traditional financial management systems work well for their intended purposes – financial reporting, compliance, etc. However, these systems are not designed to provide managers with ready-to-use information about the myriad of internal sources of cost and profit. In a profit-seeking organization, financial systems do not delineate cost by activity or process. They do not report the profitability of services, customers, segments, channels and so on. In the case of manufacturing companies, financial reporting systems often do not accurately determine product costs. Similarly, government accounting systems do not reveal the sources or causes of overspending; don't relate expenditures to processes in a meaningful way; and are disconnected from strategic goals, performance measures, rewards, outcomes and budgets.

ABM is not a financial system. Rather, it is an organizational cost-and-profit-analysis tool. It attributes costs to processes, and process costs to the products and services that benefit, and ultimately to the customers that receive those benefits. ABM pinpoints, in a highly understandable way, the top areas for action and the changes that will maximize profits and minimize costs.

ABM is not a one-size-fits-all methodology. It is a diverse toolkit – including time-based and consumption modeling – that allows ABC to support historical analysis, predictive modeling, scenario analysis, budgeting and capacity planning. Importantly, ABM adapts to any industry and all parts of the value chain.
Hornby: Who is your typical customer and what triggers the need to look at ABM?

TURNEY: There is no typical organization, just a universal trigger for action. It is not uncommon to work one week with a bank that wants to understand customer profitability, and then work the following week with a government agency that wants to know the cost of outsourcing work.

The universal trigger for all organizations is the need to accurately and relevantly understand their business – and the best way to meet strategic goals and address competitive or budget pressures. This need is accelerated when there is a "burning platform," such as reduced profits or an economic downturn that has the potential to radically change the business environment.

Given today's credit crunch, consider how many banks are currently thinking about restructuring, downsizing or selling off assets. That one event has an impact on virtually every organization. When the pressure is on, it's tempting to make easy cuts (e.g., headcount). However, without a true understanding of costs and what drives value, some of those decisions may undermine future growth and stability. The irony is that most organizations can recover vast sums of money (400 percent) without letting go of a single employee.

Whether the champion is finance or IT, the information from ABM will be used to reduce process costs and improve product and customer profitability. Departments such as operations, shared services, sales and marketing, supply chain, etc. can use ABM to resolve budget pressures or pricing wars, re-engineer processes, consolidate overlapping organizations, optimize customer acquisition and retention, reduce unused capacity and more.
Hornby: Cost is just one vector for improving value. How do you see ABM integrating with performance management?

TURNEY: Performance management is about strategically leveraging resources, processes and technology to deliver value to customers in a profitable and sustainable manner. ABM is the cornerstone of that effort. It includes providing accurate rates for analyzing the profitability of customers, and uncovering the hidden drivers of profitability and operational efficiency. ABM is an important source of performance measures for the process and customer dimensions of scorecards. ABM supports the preparation of budgets and long-term plans that are logically derived from strategic goals, and reflects the resource requirements of business plans. ABM helps you manage resource capacity and forecast human resource needs for each skill type. In response to the increasing pressures for sustainability, ABM is used to model and report the use of carbon dioxide, and support decisions that are both sustainable and financially prudent.
Hornby: What are the top three barriers to adoption, and what advice would you give our readers about learning more?

TURNEY: Let me start by saying what is not included in the list of barriers. It does not include technology and knowledge. Today's SAS software provides sustainable, enterprisewide solutions. Combine this technology with the know-how from more than 20 years of experience with ABM customers, and you can build cost-effective systems. So, what are the significant barriers to adoption? These are failure to convince management that change is needed, lack of business purpose, and failure to demonstrate the ROI from ABM. ABM is not the only management initiative that needs change management, but it is an imperative because of ABM's ability to reveal hidden losses and  challenge the ingrained perceptions of profitability. Resolution requires leadership, communication, learning and the ability to build a broad-based coalition of the willing.

A second common barrier is the failure to define a clear business purpose for ABM. Implementing ABM involves finance and IT, but it is not a finance or IT initiative. It belongs to the business users. If a value proposition is not crafted for ABM, it will likely be a case of "We will build it, but they will not come." Define the business needs, formulate ABM to clinically meet those needs, and you will have a winner.

A third common barrier is the failure to plan for and capture a  significant ROI. If the business purpose of ABM is to change decisions for the better, it should be possible to anticipate where the returns will be. And, once the system is in place, you should be able to compute the returns from the resulting decisions.

In one situation, an organization spent over a half-billion dollars on an enterprise resource planning system, yet failed to anticipate a return from ABM. The investment in ABM was trivial compared with the investment in the ERP system. From a ROI perspective, ABM was the final mile, the last 1 percent of the investment that provided 90 percent of the return.

Often, the root cause of barriers to adoption is lack of knowledge about ABM. There are plenty of materials that can help; share them with your colleagues and build a coalition of the willing in order to get ABM adopted in your organization.
Bio: Jonathan Hornby is Director of Marketing for SAS Performance Management.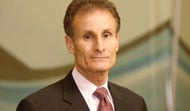 Peter Turney, CEO of Cost Technology
This story appears in the First Quarter 2009 issue of