Benelux 2009: Investing in new opportunities
For nearly 50 years, the countries of Belgium, the Netherlands and Luxembourg have formally partnered to promote stability and growth for the region's 27 million people. It's a partnership that continues to drive new prosperity and opportunity today.
When most of us think about countries joining forces to foster greater economic growth through less restrictive trade borders and the free movement of workers, capital and goods, we might think of NAFTA, the European Union or other large-scale treaties. But in many ways, the roots of these free-trade and political frameworks owe a debt to the small countries of Belgium, the Netherlands and Luxembourg, who were important catalysts for multinational collaboration in business and government.
 
Driven by a collegial spirit of economic and political partnership, the "Benelux Countries" have been pioneers in cross-border cooperation stretching back to the first half of the 20th century. For many decades, their willingness to embrace free trade, democracy and religious and ethnic diversity has, in numerous ways, served as the template for the emergence of today's European Union. Benelux countries share multiple languages and economic regulations forged through many years of cooperation and common objectives.

Today, Benelux is at the center of a resurgent European economy that – even in today's challenging climate – appears well-positioned to claim a key role in global business.

For SAS, a company that's been an entrenched partner with Benelux companies for more than 20 years, the 2009 business climate in the region represents an unusual mix of opportunities – from helping major corporations understand the way forward to bringing the power of business intelligence to a broader array of small and medium-sized businesses. We continually work with companies in data-intensive sectors, including pharmaceuticals, financial services, government agencies, healthcare and energy.
A dominant position in pharmaceuticals
The pharmaceutical industry has a long and rich history in Belgium. Approximately 150 pharmaceutical companies operate in the country, operating R&D centers, manufacturing facilities, sales organizations or logistics centers. Six members of the Belgian Pharmaceutical Industry Association have a basic research center in the country, and 27 companies produce in Belgium.

Virtually all major players in Benelux rely on SAS, which offers an end-to-end solution to drive efficiencies throughout every stage of a drug's life cycle, from discovery through development, commercialization and beyond. We're helping Belgian pharma companies optimize the flow of valuable scientific and operational data and bring therapies to market faster and more efficiently and cost-effectively. 
Standing by financial services in transition
The Benelux countries have also forged a strong presence in financial services. The merger of Dutch bank ABN AMRO (including Fortis, a Belgian financial-services giant) was formerly the dominant event in regional banking. However, that has been eclipsed by the Dutch government's purchase of ABN AMRO and Fortis in the Netherlands, followed by the takeover of Fortis in Belgium by BNP Paribas.

Benelux, of course, will not be immune to these kinds of upheavals. Several banks have received funds from their federal governments, and the crisis is having a profound effect. However, with a long track record of partnership with global financial services firms, SAS sees the current turmoil as an opportunity to help banks and brokerages better manage enterprise risk. Our software is used by more than 3,000 financial institutions worldwide, including 97 percent of banks in the FORTUNE Global 500®. Benelux firms such as ABN AMRO, AXA Bank, LeasePlan, KBC, Record Bank and Van Lanschot Bankiers use SAS solutions to get a complete picture of their risk in areas such as credit scoring, fraud management, anti-money laundering, operational risk, capital allocation, regulatory compliance (including Basel II) and other key areas. As these companies continue to navigate through these challenges, SAS is well-positioned to stand by them with comprehensive solutions that deliver timely analyses and insights.

A strong presence in the energy industry
The Netherlands is home to enormous reserves of natural gas. In fact, a significant portion of the country's GDP comes from very large gas fields, which makes proper management of this incredibly vital asset a national imperative. SAS has been working to provide solutions that enable energy producers to transform masses of data about subsurface, operations, reservoirs, fields, other assets, suppliers, contractors, risks, costs and profitability into strategic business intelligence.
 
We've worked with utility companies to develop, integrate and share strategic plans among various constituents and monitor those plans to create long-term operational efficiency, effectiveness, safety and integrity. Our solutions let companies gain the foresight that can increase production uptime and profitability.
Facilitating the new wave in government: transparency and service
Across all three countries, Benelux governments have largely spent the past decade adopting enterprise resource planning (ERP)-type systems to automate many key processes. However, they've now found that these systems can't quite deliver the transparency and efficiency they need to know what is happening in their areas of responsibility. As a result, SAS is seeing strong interest from public-sector agencies for business intelligence and analytics.

Governments are striving to adopt the same "customer-centric" principles. Instead of customer relationship management, we're seeing more agencies implementing "citizen relationship management" initiatives. SAS is uniquely qualified to help public organizations achieve fast, reliable, high-quality, affordable and user-friendly e-government services. Through SAS' customer-centric solutions, we are making e-government happen. Some of our top e-government Web sites include Federal Public Service Economy, The Federal Public Service of Employment and INASTI.

In terms of demographics, the average age of Benelux citizens has climbed recently, which is making healthcare management a high priority. Moreover, more hospitals are under pressure to act as for-profit enterprises, which places a greater emphasis on performance monitoring and KPI-driven results. Insurers and payers are increasingly demanding greater transparency and accountability for the massive amounts of money they're devoting to healthcare. They're relying on SAS for thorough analyses of high volumes of data to ensure the right money gets to the right places. What's more, SAS is helping at the clinical level by enabling care providers to integrate their large volumes of disparate data to create a single view of the patient.

Even as our global economy appears headed for a turbulent transition, we remain focused on the opportunities that lay before us – to help Benelux companies achieve greater efficiencies and exploit these challenges to emerge from this difficult period with greater strength and better positioned to surge ahead.
Bio: Bert Boers is the Regional Director for France and the Benelux countries.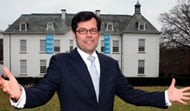 Bert Boers, Regional Director for France and the Benelux countries
This story appears in the First Quarter 2009 issue of