Championing the customer cause
Secrets of customer service success from 1to1 Customer Champions
Everyone pays lip service to customer service, but who really makes it happen? What are the keys to delivering ideal customer experiences? This year's crop of 1to1 Customer Champions can offer some insight.

Each year 1to1 Media, a division of Peppers & Rogers Group, recognizes 15 executives who have made customer-centricity the focus of their businesses. These 1to1 Customer Champions are honored for treating customers in a way that builds loyalty and engagement by evangelizing customer value in their organizations. They are continually looking for new approaches to improving the customer experience in ways that benefit both company and customer.

With SAS' support as the exclusive sponsor of the 1to1 Customer Champions program, 1to1 Media tells the stories of these extraordinary leaders and demonstrates how they're driving customer success. Even though they hail from industries as varied as automotive, financial services and manufacturing, they all share the belief that customers are a precious asset.

Executives from three SAS customers were honored this year. David Norton of Harrah's Entertainment, Aaron Cano of 1-800-FLOWERS.COM and Janet LeBlanc of Canada Post use very different approaches to delivering ideal customer experiences. But they share the same focus – and the same championship-level results.
Cllick on the links below to read their stories: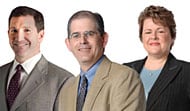 David Norton, Chief Marketing Officer, Harrah's Entertainment
Aaron Cano, VP of Customer Knowledge and Marketing Planning, 1-800-FLOWERS.COM
Janet LeBlanc, Director of Customer Value Management, Canada Post
Read More
Read the stories of these customer service champions:
Visit 1to1 Media online
This story appears in the Fourth Quarter 2008 issue of