Sustainability and business: In pursuit of the triple bottom line
By aligning people, planet and profit, companies can turn sustainability strategies into competitive advantage
The hybrid vehicle in the garage. The fair-trade coffee beans in the pantry. The carefully managed thermostat. The recycled ink cartridges in the printer. What was once a clichéd portrait of the unbleached-cotton-wearing, socially conscious consumer carefully separating recyclables into reusable canvas totes is now a large, growing and demanding demographic that reaches around the world.

And that means – when it comes to socially responsible operations – global business has reached the tipping point. That's true for both consumer- and B2B-focused corporations.

For years, "green" products were limited to specialty market niches. Up and down the supply chain, environmentally sensitive components, ingredients, products or production processes translated into added costs that meant those goods were purchased by only the most eco-committed consumers willing to pay the premium. Today, however, it's a different story.

Over the past generation, the calls for organizations to become better stewards of our natural resources, embrace environmentally friendly practices, adopt fair-trade policies and implement "sustainability strategies" have shifted from a small but vocal number of advocates to broad majorities of consumers and governments worldwide. Today, issues such as climate change, energy consumption, labor practices, food safety, pollution and waste management are strong factors in the impressions that companies make with consumers, investors, regulators, watchdogs and other stakeholders.

In its 2007 survey on social trends, the research firm GlobeScan found that the No. 1 factor shaping consumer opinion about a company's social-responsibility profile was whether it harmed the environment. Furthermore, consumers take that issue seriously: 55 percent of those surveyed in North America said they have punished companies that they find irresponsible. In the US, those discriminating consumers have helped create a $306 billion "green" market – one that market-watchers think can reach $850 billion in five years. Because the impact of consumers' "green choices" reaches far back into the supply chain, virtually every company needs to raise its environmental consciousness to respond to these growing demands.

From an investment perspective, the world's financial markets are showing interest in the heightened role that sustainability and, more broadly, corporate social responsibility are playing. In the May 2007 McKinsey Quarterly, Al Gore and David Blood (formerly the head of Goldman Sachs Asset Management) make the compelling case that investing in sustainability is not merely a "feel-good" measure for the Birkenstock set but a savvy strategy that can deliver above-average returns. Similarly, Dow Jones has created a family of Dow Jones Sustainability Indexes (see sidebar: "Investing in sustainability") to track the financial performance of leading sustainability-driven global companies. This gives investors options for allocating assets among diverse companies while still remaining true to their principles.
Adopting the Triple Bottom Line
As sustainability moves from the margins to the mainstream and companies turn their attention to assessing the costs, benefits and advantages of the initiatives that markets, industry consortia and government agencies are demanding, it's a good idea to look at the roots of this concept. Sustainability first appeared on the world agenda when the United Nations applied the term and later founded the Commission on Sustainable Development. Initially, the UN defined sustainable development as development that "meets the needs of the present generation without compromising the ability of future generations to meet their own needs." More recently, practitioners have expanded this definition to encompass environmental, economic and sociopolitical aspects.

The UN also promulgated an important term related to sustainability: the Triple Bottom Line – or People, Planet, Profit. The Triple Bottom Line conceptually expands the traditional financial framework to encompass rigorous reporting on the organization's performance on sustainability issues such as the carbon footprint, hiring practices and dozens of other metrics. The unifying principle of the Triple Bottom Line is that managing for sustainability aligns with greater efficiency and improved corporate performance. That raises the question: How do companies effectively build a sustainability component into their overall business strategy?
Four steps to responding to the new mandate
Regardless of industry, size or location, strategic management is fundamentally about identifying opportunities and obstacles and navigating through the external environment in a way that makes the most of the organization's assets, according to three Stanford University business professors.1 Tools and conceptual maps help managers and executives uncover the relationships between the choices they make and the performance the company achieves.

The key, of course, is to invest the right amount of time and manpower to carefully research and understand all sustainability-affecting aspects of the business. Companies must identify the green-related metrics that apply to the business and – crucially – find the right data to describe and measure those metrics. Predictive analytics tools can help identify the proper leading indicators that predict and measure sustainability performance.

What is measured really matters – and technology can help improve the business' response to the sustainability mandate in four ways:

MEASURE – By properly addressing the need to integrate and validate data, companies can benchmark their key sustainability activities using industry-accepted methodologies and protocols – such as those promulgated by the organizations (See sidebar: "Sustainability resources for corporations"). For CIOs, it can be as simple as installing smart energy meters into data centers and integrating that data into resource management dashboards. Or it can be as sophisticated as evaluating carbon accounting throughout the supply chain, using guidance from industry organizations. Ultimately, the greatest challenge is accessing and trusting the data.

REPORT – As with financial performance, it's essential to fully and formally disclose sustainability performance to ensure transparency with key stakeholders and compliance with regulatory agencies – and no longer on merely a casual/annual basis. By regularly disclosing an integrated, consistent source of quality information, companies can bind initiatives to a common sustainability framework that promotes consistency across all lines of business – from the data center to the water treatment facility. Of course, buyers – particularly in B2B transactions – are increasingly savvy. Reporting on metrics alone does not give a clear enough view into the short-, medium-, and long-term strategies of the organization. Instead, it's essential that companies report on corporate goals and performance relative to targets to avoid accusations of so-called "green-washing."

IMPROVE – After identifying and measuring the metrics that have the greatest impact on sustainability goals, companies can make more informed strategic decisions. Insights into activity costs provide information on the impact of these strategies on current operating capital, ROI, or rate-of-return mandates and bottom-line profitability. Applying optimization, forecasting and data-mining capabilities to analyze scenarios and run simulations can improve response and successful strategy execution.

FORECAST – Finally, a solid foundation of aggregated and well-structured sustainability data enables the enterprise to manage the resources needed to achieve the desired outcomes across the organization and within individual departments. Key strategies here include prioritizing organizational strategies and aligning investments in new product innovation, program development and talent management. Scorecards and strategy maps driven by the sustainability goals of the organization also play important roles.
How sustainability creates a Triple Bottom Line advantage
We've seen in other areas how new regulatory and market demands create significant frameworks that, undeniably, add non-product overhead to the costs of running the business. Sarbanes-Oxley is an excellent and well-understood example. However, SOX also provides a template for how companies can leverage those compliance expenses into competitive advantage. Simply put: Properly directed, the efforts that companies devote to improving their sustainability posture can pay substantial returns in the forms of lower costs, an enhanced competitive position, improved product quality and a more appealing corporate image.

In their book Green to Gold, authors Daniel Esty and Andrew Winston identify dozens of examples of companies that have put sustainability at the top of their agenda – and achieved meaningful results and tangible and intangible advantages:

IKEA – The legendary maker of assemble-it-yourself furnishings lowered its supply-chain costs by dramatically reducing the environmental impact and financial costs of its product distribution. The company strives for "flat packaging" that squeezes every cubic inch out of every box. That lets IKEA pack its trucks and trains much more compactly and increase its fill rate as much as 50 percent. The result: decreases in fuel consumption by as much as 15 percent. In one instance, the company trimmed three centimeters from a box for a sofa, enabling it to fit four more sofas on a trailer.

Hewlett-Packard – Customers of the dominant printer manufacturer were increasingly reluctant (or unable) to dispose of old toner cartridges for its acclaimed laser printers. Nimble competitors selling reconditioned cartridges were also eroding the lucrative after-market of a key HP business. In response, HP launched "Planet Partners," a high-margin, $100 million recycling and remanufacturing business that recycles 11 million cartridges each year.

General Electric – As part of its groundbreaking "ecoimagination" campaign, GE set forth an ambitious list of goals: reducing greenhouse gas emissions, ramping up R&D investments in environmental technologies, and more. The company monitored its campaign using scorecards to assess the environmental strengths and weaknesses of 17 key products it concluded were the best candidates to improve customer operating and environmental performance – from jet engines to solar panels. As Esty and Winston note, "With a focus on specific products, ecoimagination is as much a product play as a committed effort to go green: GE wants to sell those jet engines, not just have environmentalists admire them."

Citigroup – In 2004, the financial services leader conducted a simple test in a small subset of its offices. It bought 30-percent-recycled paper for printers and made double-sided copies its default standard. The simple test reduced paper consumption by 10 tons and $100,000. The energy saved in the paper-making process reduced greenhouse gas production by 28 tons. A simple initiative like this gets the attention of the entire organization.2
Sustaining the movement
The UN Climate Change Conference 2007 in Bali set a course for negotiating new sustainability targets by 2009. Meanwhile, independently expanding country-specific regulations will challenge global organizations, many of which have expanded outside their home country for competitive advantage in new markets. In the coming years, steadfast focus on aligning the elements of the Triple Bottom Line will be a necessary guiding principle for virtually every organization.
Bio: Alyssa Farrell is the Marketing Manager for Sustainability Solutions at SAS.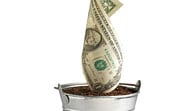 ---
Sustainability resources for business and government

Global Reporting Initiative – This group aims to make reporting on economic, environmental and social performance as routine as financial reporting. Its Sustainability Reporting Framework provides the basis for disclosure about sustainability performance.

World Resources Institute – This environmental think tank promotes proposals for policy and institutional change that foster environmentally sound, socially equitable development and promotes the Greenhouse Gas Protocol that is emerging as the standard for "carbon accounting."

The Green Grid – For IT-centric or IT-dependent organizations, this global consortium seeks to advance energy efficiency in data centers and business-computing environments. 

EPA Climate Leaders – This industry-government partnership develops comprehensive climate change strategies. Partner companies complete a corporatewide inventory of their greenhouse gas emissions, set aggressive reduction goals and annually report their progress to EPA.

Environmental Defense – This nonpartisan organization partners with businesses, governments and communities to find practical environmental solutions.
This story appears in the Second Quarter 2008 issue of