See what JMP® can do with your data
Visualization gives you a greater understanding of what your data is trying to tell you
Using spreadsheets to try to analyze and communicate business data is so 20th century. Spreadsheets are static and can answer only simple queries. You want to see trends and projections, and you want to handle multitudes of data. That's why you're a SAS user.

But you also want to interact with your data. You want to visualize it in a new way and see things you might otherwise miss.

Innovative 21st century organizations across industries have come to this same conclusion, and they are exploring and analyzing their problems visually with JMP statistical discovery software. Because it's from SAS, JMP integrates perfectly with other SAS products. JMP is a visual and interactive interface to SAS.

Now you can see for yourself. Check out a variety of visualizations below that show how JMP turns data into knowledge.

What is this? Categorical analysis.
What is it for? It is designed to analyze multiple-response data from such things as surveys, defect records and clinical trials.
What can it do? In this instance, a pharmaceutical company can see adverse effects from a drug's clinical trial. Using color and width of the bars in the charts as well as the statistics above them, the analysis compares the drug to the placebo. You can see that the drug resulted in 294 cases of tinnitus (peach color), while the placebo resulted in 68.

---

What is this? A tree map.
What is it for? It presents data as a two-dimensional tiled graph, wasting no space and enabling quick analysis of many categories by comparing the sizes of the rectangular tiles. In contrast, the bar chart tucked in at the left depicts the same data as the tree map, but it has a lot of unused space and is less effective because it has so many bars.
What can it do? The marketing department of a company, for instance, can see where its revenue is coming from so it can better focus its efforts and grow profits. This tree map shows that manufacturing, telecommunications and healthcare customers were major contributors to the total revenue.
---

What is this? A bubble plot with trails.
What is it for? It shows change and trends over time.
What can it do? In this case, government policy makers can visualize population trends and projections. This plot shows the percentage of people who are 19 years old and younger in four countries from 2000 to 2017. Policymakers in all four countries can see that low birth rates have resulted in fewer and fewer workers to support retirees. For the United States, this trend of the decreasing proportion of young people is projected to stabilize by 2017, but not so for Japan.
---

What is this? Profiler with simulation and optimization capabilities.
What is it for? It is used for exploring scenarios and finding optimal solutions.
What can it do? To meet specific financial goals, an individual investor might use it to determine the best mix of four mutual funds in a portfolio. The investor may want to minimize the risk of a low yield, for example, less than 8 percent return. By adjusting the allocation of the funds, the investor can dynamically explore predictions of risk.
---

What is this? A scatterplot with nonparametric density contours and marginal distributions.
What is it for? It shows where the data is most dense, with each contour line in the curved shape enclosing 5 percent of the data.
What can it do? For example, the manufacturer of computer processors can analyze the relationship between the speed of a chip and any factor that engineers can control, such as standby current, to improve quality and profit margins. Using this scatterplot, the manufacturer can identify abnormal chips – the ones represented by points lying farthest from the curved shape – and see that reducing standby current helps increase the speed of chips. Chips that are expected to be too slow would not be processed to completion, avoiding unnecessary cost and time.
---

What is this? A logistic regression.
What is it for? This type of analysis explores the relationship between the odds of success (or failure) and another variable.
What can it do? In this example, a credit card company is exploring how increasing the initial balance-transfer offer affects the odds that a consumer will sign up for a new credit card. The red dots represent individuals who did not sign up for the credit card (failure), while the blue pluses are individuals who accepted the offer (success). The curved line in the main graph shows the increasing probability that a consumer will sign up as the initial balance-transfer offer increases.
---

What is this? The joining of three different data tables. 
What is it for? It enables users to play with data from a variety of sources.
What can it do? A business user, for example, might need to use data from a SAS data warehouse and an Excel spreadsheet. Perhaps he or she wants to explore this data to discover sales trends among product categories. This example demonstrates the joining of detail data. The resulting window in front shows the data joined together, ready for action.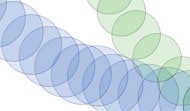 This story appears in the Second Quarter 2008 issue of