Characteristics of breakthrough companies
Aligning words and deeds is the single most important building block in creating strong company character
Keith McFarland's new book The Breakthrough Company reveals strategies of companies that have broken through the entrepreneurial phase to become established, long-lasting organizations. These companies have excelled by demonstrating character and values and believing in their employees. 
McFarland discovered that how the people in a company treat each other and their customers is vital to breakthrough. This excerpt describes how SAS and other breakthrough companies are setting precedents for aligning priorities based on the good of the organization.
---
Every breakthrough company approached the issue of company values in a slightly different way. When the Express organization gathers once a year for their annual meeting, they vote on what they call their "family values." The Staubach Company has its constitution, and Fastenal hands out wallet-sized, laminated copies of its values. Paychex, on the other hand, doesn't have a printed list of values. Neither does Chico's or the SAS Institute. Similarly, when we talked to Bob Nygaard at Polaris about his company's value statement, he dismissed it with a wave of his hand, telling us it was something a consultant helped them draw up. "What I can tell you is that no one who works here would do anything to put our company in harm's way." Although each of the breakthrough companies had a unique approach to articulating values, they share several important character attributes when it comes to how they treat their employees and their customers, and even how they spend their money.

Give folks a fair deal
When we interviewed Jim Goodnight, founder of North Carolina-based SAS, he told us that his two goals right from the company's start in 1976 were to make software that customers needed and, just as important, to create an environment that his employees would enjoy working in. "I wanted a place where life's distractions wouldn't get in the way so that the creative juices could flow," Goodnight told us.

Goodnight was a graduate student at North Carolina State University when he and his SAS co-founders ventured out on their own after the academic funding for their statistical analysis software project ran out. In launching SAS, they sought to make their company more collegial than the corporate environment of General Electric, where Goodnight worked on a project for NASA while finishing his PhD. While he found the work at GE stimulating — he was working on a project for the Apollo space program — he felt like someone was always looking over his shoulder. Things would be different at his company, he vowed, and one way he accomplished that was by giving most employees at SAS their own private office. "I know for a fact that most companies just give people cubicles to work in," Goodnight said. "What we tried to do was to treat people who joined the company as we ourselves wanted to be treated."

SAS has become famous, among working mothers especially, for its vast array of benefits, which includes the private offices on a parklike, 300-acre campus, but also onsite doctors and nurses, a top-notch day-care facility, and even a hairdresser who takes walk-ins. Goodnight's goal of treating people fairly has also proven to be a great business strategy: SAS has increased its revenues every year since 1976 and is now considered the largest privately held software company in the world.

Compare that performance with that of SPSS, a company similar to SAS in many ways, including its campus roots. SPSS got its start in 1971 at Stanford University, and later at the University of Chicago. The company's name is actually an acronym for Statistical Package for the Social Sciences. By the early 1980s, each firm was earning about $20 million a year. But by the early 1990s the two companies' paths diverged. Norman Nie, who cofounded SPSS, left the company in 1992, two years after a group of venture capitalists took a stake in the firm, and one year before SPSS went public. SPSS then engaged in a flurry of acquisitions to try to fuel its growth, shed a lot of skilled workers, and actually began reducing the amount it invested in R&D. SAS, on the other hand, continued under the same management team, made few acquisitions, took no outside capital, and continued to increase its R&D investments, which equal, on average, 24 percent of revenue. The results are telling: While SPSS posted revenues of more than $261 million in 2006, SAS posted its thirty-first straight year of growth, topping out at $1.9 billion in sales. Today SAS works with 96 of the top firms listed on the 2007 Fortune Global 500 list. "We continue to invest in our people so we don't need to make acquisitions," Goodnight told us. "While we have done a few, buying other companies is really about satisfying the CEO's ego more than anything else."

Scaffolding defined
When we first launched our study, we expected to turn our microscopes on the nine breakthrough companies themselves. But, as our reporting began to give us a deeper understanding of how those companies operated, we began to see the outline of a bigger reality: Each breakthrough company was surrounded by a network of outside resources vital to its success. We call these resources "scaffolding" because, like physical scaffolding, they are temporary structures that exist outside of the organization itself and enable the company to get to the next level. While YPO and other peer networks can be important forms of organizational scaffolding, we found that breakthrough companies are also adept at using other forms of scaffolding, such as advisory boards, boards of directors, and customer or dealer councils, as well as investors, industry experts, consultants, and advisors. What sets the breakthrough companies apart, however, is not that they have these support structures (many companies have boards or hire consultants), but the optimal manner in which they learn from them. Just as breakthrough companies invest heavily in their employees and expect a lot in return, they have equally high expectations of outsiders upon whom they come to depend.

The comparison companies we studied, on the other hand, appeared to be more insular and less eager to form real partnerships with people outside the firm. For example, while some of the comparison companies we studied formed customer councils or held regular user-group meetings, these meetings tended to be highly scripted broadcast events that involved one-way communication. Compare that to SAS, which allows its customers to determine its development priorities through a sophisticated customer poll — the SASware Ballot. SAS tech support reps listen to the kinds of things that customers want, and the top items get included in the ballot — which is sent out to the entire customer base. In this way, customers, not SAS engineers or marketers, determine the development team's priorities. This is unheard of in the software industry. "I remember when we hired a sales manager from one of the other big software firms," Suzanne Gordon, SAS's CIO, told us. "He was completely dumbfounded by his first user-group experience. He told me that while his old company held user-group meetings, that they were viewed by customers as an obligation, or an opportunity to pick up some freebies. He was blown away by how we actually listen to our customers, and they love us for it. Our biggest risk is that we stop listening to our customers and start reacting to our competitors instead."

Bio: Keith McFarland, of McFarland Strategy Partners, advises hundreds of growth companies as well as industry leaders such as Microsoft, Motorola and Morgan Stanley. He is also a columnist for BusinessWeek.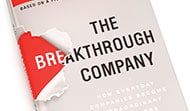 ---
What makes a breakthrough?
McFarland found inspiration for the book out of need. Unable to find the answers he was looking for among traditional books, McFarland spent five years gathering empirical information from 7,000 companies that answered three questions, which are the basis of the book:
Why do most companies start small and stay that way?
What is special about the handful of companies that successfully "break through" the entrepreneurial state of development?
What can a leader do to ensure that his or her company maximizes its chances for breakthrough?
This story appears in the Second Quarter 2008 issue of