Africa 2008: Investing in new opportunities
The diversity of African markets represents a wave of opportunities to bring business intelligence to new frontiers
When it comes to economic progress and business climate, Africa is unmatched in the breadth of opportunities that it presents. From the global sophistication of South Africa to the emerging (and fast-growing) economies of Nigeria, Egypt, Morocco, Tunisia, Kenya and other hotspots, SAS remains committed to expanding our presence across the continent, investing in new operations, and strengthening our ties with our customers.
This is a most worthy and exciting endeavor for our organization.

Africa, of course, is not without its serious challenges. For decades, we've seen shortcomings in business and public infrastructure, a disproportionate amount of exports leading to vulnerabilities, failed aid policies, energy disruptions, civil and political strife, and the increasing spread of the HIV pandemic. Nonetheless, SAS looks forward to making a measurable difference in countries that are transitioning into the 21st century. 
South Africa: The standard bearer
Given its decades of economic stability, South Africa continues to set the standard for African business growth. The economy continues to perform exceptionally well, and consumer confidence is at an all-time high. South Africa seeks to maintain an inflation rate of 3-6 percent. And even though many multinational corporations maintain African operations in SouthAfrica, we're seeing an increasing number of local operations for multinational corporations.

Although the country does not have sizable crude oil deposits (South Africa imports oil), there is significant activity in converting marsh gas to liquid petroleum. We've also seen a thriving industry in the conversion of surplus maize into environmentally friendly biofuel.

SAS operates a pan-African energy practice that is driven from the South African office. And SAS business intelligence tools are helping companies across the energy industry, including electricity, oil, gas and water. 

In financial services, South Africa leads the continent with a robust infrastructure – one of the world's best, in fact – for managing investments and capital flows. In October 2007, Standard Bank of South Africa – one of the "big four" full-service South African banks – announced a strategic partnership with Industrial and Commercial Bank of China Limited (ICBC), the world's largest bank by market capitalization. That agreement makes ICBC a 20 percent shareholder in Standard Bank. This represents a tremendous endorsement of the country's financial services industry and is a sterling example of how Chinese investors are keen to enter higher-risk markets that Western companies have traditionally avoided.

Today, virtually every major bank in South Africa is a SAS client, including Absa Bank (owned by Barclay's), Nedbank, First National Bank, Standard Bank and many others. The same is true in insurance, where SAS has strong partnerships with many leading players.

From a BI perspective, South African businesses have a legacy of success that stretches as far back as their counterparts in the US. South African businesses have been in the forefront of analysis, reporting and decision support for decades.

Moving forward, the challenge will be continuing to ensure that success evolves from a point-solution/silo basis to a true enterprise standpoint where companies can synthesize information from many perspectives to elevate their information from a high-value tactical use to a board-level strategic imperative. All signs would indicate that South African businesses and government organizations are well positioned to take that next step.
Addressing diverse African economies
For too long, African states have been held back by donor-driven economies, where multinational organizations came to Africa to show us how to do business. I think that's ready to change. Increasingly, Africa is home to large companies like Orascom, BHP Billiton, Anglo American, SABMiller and Old Mutual – FORTUNE Global 500® companies with core African roots and listings on stock exchanges on other continents.

SAS has operated in Africa for close to 30 years – with the bulk of our footprint in South Africa. Now, we are poised to aggressively expand that footprint. We already have dozens of very large customers spread across other countries, including Mauritania, Rwanda and Togo. In disease-plagued countries, we find SAS playing key roles in supporting donor-funded initiatives to fight malaria and HIV/AIDS. Whether it's sugar processing in Zimbabwe, cooking-oil refineries in Kenya or telecom in Tanzania, more organizations are recognizing the value that SAS can bring to their businesses.

In French-speaking parts of the continent, including Senegal, Cote D'Ivoire, Cameroon, and the Maghreb region comprised of Morocco, Algeria and Tunisia, SAS' reach is growing quickly, spearheaded by software adoption from telecom and banking customers. Energy industries in these regions are also helping lead the charge, with companies such as Algeria's Sonatrach relying on SAS to help manage operational risk.

Across Africa, we're witnessing a much-needed stabilization of the banking environment that is creating a surge in investor confidence. For example, in Nigeria, new legislation has unleashed waves of healthy merger and acquisition activity among institutions of all sizes. Previously, the country had nearly 100 banks, but after the government-sanctioned mergers and acquisitions, there are now 13 major banks.

These newly structured institutions face significant challenges – from massive data integration issues to compliance with global regulations for risk management, capital adequacy (e.g., Basel II) and more. We're seeing similar banking dynamics in Egypt and in some French-speaking areas of the continent.

Another industry that's primed to take advantage of the power of BI is telecommunications. There are 800 million people living in Africa today – only a small fraction of whom own their own landline telephones. While there are operations from major global telecos, local firms are also rushing into this market and achieving significant success. In Egypt, for example, local telecom providers have signed up 20-30 million subscribers for mobile phone services.
Other markets, factors and opportunities
In other less-developed countries, the emphasis continues to lie in making investments in basic infrastructure – such as public health and education. This presents a most attractive proposition for SAS: the chance to deliver and deploy smart solutions and make a difference. The key to achieving this will be the ability of governments to provide new levels of transparency – with anti-corruption and anti-fraud measures. And the time is right: virtually all African politicians and citizens are eager for these reforms to change global perceptions and improve the business climate. 

In many of these other markets, business intelligence has only scratched the surface of its potential. Visible successes are emerging for early adopters – but BI still largely remains a tactical niche in most markets. In the next few years, we fully expect that BI will follow the same adoption curve we've seen in South Africa and in Western and Asian countries as well.
An expanded pan-African presence to optimize enterprise deployments
While SAS' direct operation has been based in South Africa – with affiliated representatives working on the company's behalf in most other countries – the best way to help our customers achieve strategic value and respond to unfolding market opportunities is to strengthen our partnerships by creating closer ties. To that end, SAS will open up direct operations in Nigeria, Morocco and Egypt in 2008.   

However, more customers and larger organizations stretching across the continent require a more ambitious strategy going forward. Customers are seeking more services and more expertise on a local basis, and we are happy to respond. What's more, the question of tactical vs. strategic use of BI requires a different philosophy – one that a maturing African market is increasingly in a position to understand.

SAS views this commitment as the only proper way to communicate our differentiated value, help our customers adopt BI and truly benefit their strategic decision making. As African organizations ratchet up their competitiveness and capabilities, BI will play a major contributing role – and SAS looks forward to being an active participant.
Bio: Bill Hoggarth joined SAS in 2000 as Country Manager for SAS South Africa. In 2007, he assumed responsibility for all of SAS operations in sub-Saharan Africa, Middle East and Pakistan as Regional CEO, and he is currently busy establishing a new base in Dubai.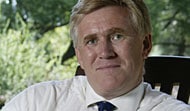 Bill Hoggarth, SAS' Regional CEO for sub-Saharan Africa, the Middle East and Pakistan.
This story appears in the Second Quarter 2008 issue of