Time to walk the walk on analytics
Did your company's marketing activity create value last year?
It's easy to talk the talk about marketing measurement. Even easier to talk about how effective a company's marketing is. It's much tougher, but much more profitable, to walk the walk. An executive who only talks about marketing measurement uses adjectives like "good" or "engaging" to describe his company's activities. An executive that walks the walk has data at the ready, and adjectives just don't mean as much.

Suppose someone asks you: "How much customer value has your marketing created over the past year?" Do you answer with data or adjectives? Unless you can answer the question with data, you're in trouble. A recent research project by Peppers & Rogers Group – in conjunction with the Canadian Marketing Association – leads us to believe there are too many adjectives out there and too little data.

We surveyed members of the Canadian Marketing Association and Canadian subscribers of 1to1 Media publications of Peppers & Rogers Group late last year. Of the 175 respondents, 30 percent held C-level or vice president positions; 33 percent, director; and 30 percent, manager. Most (65 percent) of the companies have total annual Canadian sales exceeding CAD$10 million. Only 14 percent report having achieved "high levels of proficiency" in marketing measurement. About two-thirds (68 percent) consider themselves "moderately" successful, leaving the remaining 18 percent, well … struggling.
Money matters
The key problem is investment of time, effort and money. If you walk the walk on analytics necessary to measure marketing, you'll spend money on it. Anyone can say marketing accountability is important. But budget allocation to support analytics efforts is "too little" according to 41 percent, with 87 percent indicating that not much change has occurred from the prior fiscal year and 82 percent anticipating a relatively static level of investment this year.

Quite honestly, that's a missed opportunity to retain and attract valuable customers. People, process and technology need support at all levels of a data driven company. In the absence of data, proving that marketing activities are causing observed business outcomes is difficult.

Every marketing dollar spent should deliver two benefits. First, a tangible, immediate contribution to the business; and second, an intangible insight that will continue to pay dividends through continued improvements in future programs.

Forgetting the lessons learned because of the absence of data is not a long-term strategy. In fact, it smacks of the short-termism that plagues so many businesses that ignore customers as their most precious assets.

To be highly effective, marketing measurement both uses data (e.g., selecting a target audience or establishing a control group) and produces data (e.g., purchase behavior of customers). Despite data's importance, relatively few survey respondents reported a high level of satisfaction in the accuracy (19 percent), completeness (15 percent) and timeliness (19 percent) of data used to measure marketing effectiveness. Marketers working with inaccurate, incomplete or out-of-date data will find it difficult to measure or improve their activities.
Does not compute
If companies do generate customer data, they're often not translating it into useable information. If an IT department knows that an e-mail campaign's open rate is 45 percent, that data means nothing to the marketing department unless there's a complete picture of costs, value creation and potential value of that campaign. Metrics must allow marketers to see quickly what's working (or not).

Surveyed companies use a variety of metrics, from hard, primary business benefits to softer, secondary influences. The metrics reported as most important in demonstrating marketing effectiveness solidly reside in the "primary business" category, including revenue, ROI and financial-based calculations (e.g., internal rate of return).

Among the least valued are awareness-based metrics (e.g., top of mind recall), attitudinal metrics (e.g., beliefs, feelings), and predictive metrics (e.g., lifetime value). We think those priorities should be more balanced. Attitude is a predictive metric that can help you determine lifetime value. Lifetime value cannot simply be "promising." It should be a number.
Lack of alignment persists
There's also a persistent problem of corporate alignment and culture, especially between the marketing and finance departments. Because marketers emphasize revenue, ROI and financial-based calculations to assess marketing effectiveness, it's no surprise that marketing overlaps with finance. For marketing measurement to work, these two departments must get along.

In our research, marketing was at least as senior in the organization as finance by 68 percent of respondents. This organizational parity, however, does not extend into the relationship between the two. A minority of respondents report high levels of alignment (33 percent) and cooperation (41 percent).

Perhaps it's not surprising that only 20 percent of respondents indicate that the finance department participates at a high level to establish marketing effectiveness measures. Consistent with this finding, the Association of National Advertisers found that the finance division and/or a cross-functional team were included in the company's marketing accountability efforts in only 36 percent of the cases. This silo on the front-end selection and design of marketing measures may be one reason for the lack of alignment, cooperation and trust between the two functions.

The survey also showed that, in the C-suite, the importance of measuring marketing effectiveness varies by role, with the CMO – as may be expected – placing the greatest emphasis on the activity, followed closely by the CEO. In contrast, the CFO views measurement as important but not nearly as important as these two other C-level roles view it.

While the survey uncovers missed opportunity, there is a silver lining: 16 percent of respondents say measurement has greatly improved at their companies from a year ago.

Ask yourself: Did your company's marketing activity create value last year? An effective retailer might respond, "Customers who shopped online and in-store spent 12 percent more this year than last. And we spent the same amount of money marketing to them both years."

The worst answer is "I don't know."
Bio: The Peppers & Rogers Group, founded by Don Peppers and Martha Rogers, PhD, is a consulting firm recognized as the leading authority on customer-based business strategy. www.1to1.com.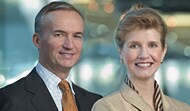 Don Peppers and Martha Rogers, Ph.D., co-founders of Peppers & Rogers Group
---
Is lifetime value losing value?
The Direct Marketing Association recently reported that customer lifetime value is ranked last among marketing metrics.

And the Association of National Advertisers found that lifetime value is very important to only 14 percent of senior executives.

This story appears in the Second Quarter 2008 issue of