Measuring your customer strategies
Top-line growth requires acute customer development, but few companies do this well
The data is stunning and shocking. Executives say the cornerstone of their business strategies, top-line growth, requires selling more to existing customers and adding new ones. But a majority of companies are not doing a good enough job at customer development, according to a survey of C-level executives from large and midsize companies by BusinessWeek Research Services in partnership with SAS.

The underlying reason is poor execution of strategic customer-focused programs, according to the 317 CEOs, CFOs, CIOs, CMOs and COOs who took part in the survey. And, in order for C-level executives to drive top-line growth, it's clear they are going to need a more concrete understanding of what drives customer value.

The good news is that C-levels have already aligned their top-line revenue ambitions with their customer and product development strategies. By a wide margin, C-level executives say customer loyalty and product/service innovation are the two most important business initiatives that will play a role in the success of their strategic goals for the year ahead.
Even though companies have made customer development and product and service innovation top strategic priorities, companies are struggling with the very programs that are necessary to achieve these priorities. Barely half of executives surveyed believe they excel at customer loyalty programs. The C-levels' confidence in their ability to execute other fundamental programs to drive growth – like innovation, acquisition of new customers and up-selling – is equally low.

Not surprisingly, these companies also are grappling with data and measurement issues related to growth and customer development. C-level executives admit they have trouble understanding the true value of their customers. Less than half (41 percent) of C-level executives say their companies have a firm understanding of what drives customer, channel, product and service profitability, and even fewer believe their companies are effectively developing new products, services, markets and channels of distribution.

Performance management (PM) could well be the coalescing force to address these diverse, but related, issues. Performance management plays a key role in improving the top line by giving companies a greater understanding of their customers. PM helps not just with operational alignment; it also provides keen insight into customers, enabling organizations to make more fact-based decisions about customer acquisition, retention, profitability optimization and other revenue-enhancing programs.

Companies that identify themselves as excellent practitioners of PM are nearly twice as likely to use analytics to hone their customer relationship strategies, ensuring that strategy is driven by customer value rather than revenue. In a nutshell, companies that do PM well know how to get more from their customers. And, a better understanding of their customers doesn't just help increase the top line. These PM stalwarts are 50 percent more likely to be able to measure customer, product and channel profitability as well, which gives them a much better shot at growing their top- and bottom-line revenues simultaneously than other companies.

To increase sales to existing customers or to find new customers, companies need to develop an intimate, fact-based understanding of those customers. And this begins with better measurement.

Consultant Mark Graham Brown advocates a sophisticated measure of the relative attractiveness of each customer, based on factors like volume of business, name-brand recognition (does having this customer impress prospects?) and "pain-in-the-butt" quotient (how hard is it to work with the customer?).

"This measure is then combined with a loyalty metric to tell executives if they are building stronger relationships with the right customers," Brown says. This helps companies develop products and services as their targeted customers change.

Momentum Textiles, based in Irvine, California, calls the metric of a customer's relative attractiveness the "Matrimonial Index," which helps prevent the company from wasting valuable resources trying to "marry" an ugly customer.

Tom Davenport, a Professor of Management and IT at Babson College and co-author of the book Competing on Analytics , adds that many companies need to expand their views of innovation to capture new customers. Metrics should not stop at product development; they also should embrace innovations in service and processes. Most innovation metrics focus solely on research and development, including patent submissions and revenue growth from new products. However, R&D metrics can be deceptive because, for example, patents do not always lead to innovation.

Figuring out metrics for less tangible areas, such as service, can be tricky. But this is crucial if service represents a key competitive advantage. "You also need to have a culture of innovation and accept failure," Davenport says. "A lot of companies aren't comfortable with that."
Bio: Chris Rogers is the Research Director of BusinessWeek Research Services and is responsible for all primary research activities related to the BusinessWeek franchise. Rogers has spearheaded several research initiatives, including C-level tracking studies that cover technology trends and the BusinessWeek Market Advisory Board, an online research panel of senior business executives.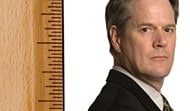 Companies are grappling with data and measurement issues related to growth and customer development.
This story appears in the First Quarter 2008 issue of