Enterprise intelligence strong in Americas markets
The economies in Canada and Latin America are as diverse as the terrain – but the need for business intelligence and analytics is consistent throughout these regions
As President of SAS Americas Subsidiaries, encompassing Canada, Latin America and the Caribbean, I'm in the unique position of overseeing business operations in three distinct regions. Across each geography, SAS transacts business in a number of distinct marketplaces. It makes for an interesting average day, as my focus shifts from one country to the next, across two hemispheres.

In Canada alone, our diverse geographic regions are defined by the industries at work in each of the 13 provinces and territories: 
Oil and gas and agriculture drive the economy in the western provinces.
Financial services and retail define the core businesses of central Canada.
Manufacturing, mining, forestry and fisheries are the mainstay toward the Atlantic coast.
The same can be said for Latin America and the Caribbean. From Jamaica to Mexico to Argentina, a diverse range of industries that produce a myriad of raw materials, products and services fuel the economies of these geographically, politically and culturally distinct countries.

Fortunately, when it comes to the software products SAS develops, our business intelligence and analytics solutions address the multitude of challenges our customers face each day, across industries, across borders and around the world in the global marketplace.
The diversity of SAS® in Latin America
My mind sometimes swirls when I think about the versatility of business intelligence and analytics supporting the data integration and decision-making process requirements of so many companies around the world. All of these organizations are at different phases or levels of harvesting their data assets and turning them into information that will drive decisions, optimize processes and operations, and deliver customer satisfaction and, ultimately, profitability.

In the regions I manage, companies are generally at different stages of moving along the information value chain – a framework for creating enterprise intelligence by unifying a company's technology landscape and its business operations. In the developing Latin American economies, much of our work involves helping organizations move away from spreadsheets and showing them the value of managing data in one environment that is accessible for analysis and reporting across the entire organization.

In the more mature markets of Latin America, hyper-growth is fueled by globalization, foreign investment, low unemployment rates, and growing lower- and middle-class demand. The economic situation has forced organizations, such as those in financial services, to invest in technology that will help fuel and sustain growth, improve operational performance, increase customer service and provide a layer of armor against global competitors. 

Nowhere is this more prevalent than in Brazil, the largest economy in Latin America. With the strongest economic picture it has seen in decades and an outcrop of multinational companies aggressively pursuing takeovers around the world, Brazil is a global player, whose growing middle class has an insatiable appetite for goods and services.

According to the market research firm IDC, SAS is the leading BI and analytical application vendor in Brazil.1 Our solutions have been helping organizations in the financial services, telecommunications and manufacturing industries protect their local markets from foreign competitors who are capitalizing on the strong economy, growing population and consumers' disposable income. I expect to see our retail solutions take off next in Brazil, specifically in the areas of credit scoring and merchandise optimization. Players in the competitive telecommunications market are squaring off in a battle to attract and retain customers with our customer intelligence solutions, and regulatory pressures in the energy sector are demanding better forecasting – a SAS forte.

Elsewhere in Latin America, Argentina's economy is gradually on the rebound, growing at a consistent rate of 10 percent over the last four years. As its government sets out to support and sustain the economy, analytics like those developed by SAS can help the government decrease spending, optimize resources and enhance services. In the private sector, companies will begin to invest in their businesses to remain competitive. Analytics will play a large role in the continued economic growth of this country.
In Central America, the Republic of Panama has been busy negotiating the co-funding of the US$5.25 billion expansion of the Panama Canal. The commercial turnaround of the Panama Canal Authority over the last six years was driven by fact-based analysis of business processes and resource optimization. Moving forward, it plans to deploy more predictive analytics across its business to leverage its assets fully.

Mexico's economy is stable, with inflation and interest rates in check and the GDP on the rise into 2008. Increased competition in the Mexican financial services market has created a battleground for banks that entice customers with offers of low borrowing costs, thus driving the need for sophisticated customer analytics and credit scoring solutions. Increasing consumer demand is driving the need for supply chain analytics among manufacturers. Intense competition and therefore lower margins in the retail space are forcing retailers to look at ways of retaining their most profitable customers.

Looking out on the Latin American business horizon, I see a number of industry business drivers that are common across countries to the south. 

This is a region with many historically low-cost manufacturing centers. To keep up with growing consumer spending power and competitive pressures from other regions around the world, manufacturers will be well-served by employing analytics across their operations to help boost their global market positions. In financial services, demand for business intelligence and analytics solutions will heat up in the areas of operational and credit risk as the Basel II Capital Accord – the international standard for guarding against financial and operational risks – forces regional banks into compliance. In tandem, international banking regulations are affecting anti-money laundering requirements, in which data quality tools and analytical software play a huge role.

Deregulation and wireless number portability will force Latin American telecommunications providers to fight to attract new customers while retaining the profitable ones. In government, I see pressure across the whole region to invest more in infrastructure, social programs and security, with the goal of optimizing resources and improving service to citizens.

Caribbean business is hot
The hottest industry throughout the Caribbean is tourism, which has sparked growth in a variety of industries there. But don't let the tourism and easy pace of everyday life on the islands fool you. Caribbean businesses are efficiency-minded and profit-driven, and they develop more than just sunshine resorts.

Much of the Caribbean's import-export business is with the United States, and Americans like to spend their vacation dollars there. So when the US economy is in recession, investment ventures on the islands decline, and fewer Americans travel. To lessen the impact of such setbacks, many Caribbean islands have expanded their export base, entertained broader European investment and privatized government-controlled industries.
St. Croix has one of the world's largest petroleum refineries, and many islands are developing lucrative offshore drilling operations, which would mean an opportunity for analytics to play an important role in exploration. In financial services, regulatory compliance and improving anti-money laundering practices are major requirements right now. Also in that industry, competitive pressures are driving a focus on applying analytics to increase customer satisfaction. Over the past decade, entrants in the wireless market have aggressively and successfully challenged the old telecommunications establishment, which is fighting for survival and employing analytics to optimize marketing campaigns, reduce churn and reward loyal, profitable customers.

Governments across the region have many infrastructure projects under way, and the international development banks, seeing progress in anti-corruption measures, are all happy to grant loans and make donations to fund them. Following the lead of countries like India, some islands – which have an abundance of well-educated residents – are attracting foreign call centers to their markets. For instance, Dell recently announced new call center digs in St. Lucia.
BI booming in Canada
To the north, and closer to home for me, Canada is a mature and stable market, both politically and economically. The economic health is playing out in the BI space as IT expenditures continue to grow each year. BI and analytics are listed as top concerns among CIOs in Canada and, according to IDC Canada, the market is projected to be worth about US$714 million in 2008, representing an 8.5 percent increase over 2007.2
With a strong dollar and the federal government's large fiscal surplus, Canada's economy is forecasted to grow at a faster rate than any of its G-7 counterparts. Compared to rest of the developed world, Canada is in good shape. With favorable economic indicators on the horizon, organizations are confidently investing in advanced technologies like business intelligence to drive their businesses forward.

In Canada, financial services and energy companies account for the lion's share of the economic output. Financial services companies alone are the largest buyers of business intelligence and analytic solutions. In that industry, the impact of the US "credit crunch" in the second half of 2007 is driving an increased focus on SAS risk management solutions. Moving forward, I see the banks increasing their investments in data integration and BI to support acquisitions as they expand their foreign markets. Recent global acquisitions by two of this country's largest financial institutions illustrate the intent of Canadian banks to increase their international footprints.

All eyes are on Alberta at the moment as that province's economy spikes from the trickle-down effect of the oil sands expansion. Alberta's oil reserves are widely recognized as important to the global energy supply. Both upstream and downstream, analytics is playing a large role in the exploration, development, refinement, and delivery of oil and gas in this country.
Adoption of retail analytics, specifically merchandise intelligence, will continue to grow through 2008 as Canadian retailers face mounting competitive pressures from US entrants. Retailers are evermore expanding their physical operations and moving into new categories to grab a bigger share of an already well-divided consumer wallet. Right now, I see one of Canada's oldest and iconic hardware and general goods retailers offering financial services products – a far cry from its humble start in tires. To compete with the ubiquitous Wal-Mart, one large grocery chain has recently added a new category to its shelves: clothing and apparel.
Change is a constant in the ever-complex business world, no matter the industry or the country. The regulatory and political pressures, combined with competitive forces, are diverse and sometimes unpredictable. Technology drives innovation. Data and information continue to grow at an astounding rate, which fuels and informs today's organizations. More data may create more problems for some and, at the very least, must seem overwhelming. But I don't see problems; I see opportunities. I see them all across the Americas subsidiaries. And in all of the markets my business travel takes me, I see an abundance of forward-looking organizations that are embracing analytics and, as a result, becoming more agile, predictive and competing with confidence in the global world of commerce.
Bio: Based in Toronto, Canada, Carl Farrell is the President of SAS Canada and Americas Subsidiaries. Farrell oversees all aspects of the Canadian, Latin American and Caribbean operations, including software sales, marketing, finance and operations, education, alliances and consulting.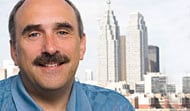 Carl Farrell, President of SAS Canada and Americas Subsidiaries
This story appears in the First Quarter 2008 issue of