The challenge of change
IT Director Renee Nocker chronicles Kimberly-Clark's shift to an analytical company
Renee Nocker, the director who leads the business analytics effort at CPG giant Kimberly-Clark Corp., loves a challenge. And it's a good thing, especially when her CFO asks her questions like, "How are we going to change the way people think?"

This is the type of question that analytics evangelists like Nocker are faced with as their executives – at least, the innovative ones – commit to the vision of becoming an analytical company. To enable faster, more confident, data-driven decision making at every level of the company is a daunting objective, and one that Kimberly-Clark has embraced with vigor.

Contrary to popular belief, the technology is only one element of this transformation. Surrounding the software and hardware are personal and professional issues such as changes in role definitions, skill sets and processes. Ironically, there are leaps of faith required, even in the very effort to infuse more fact-based decision making into a company's operations.

Nocker, director of IT services for enterprise business intelligence, is passionate about the topic – and the potential – of business analytics, and is working to instill this more data-driven approach into Kimberly-Clark's business operations.  "I see it as a journey," she says, "because I realize it might take years to get to the point where the entire company and the entire business process is managed this way. But it's the right thing to do, and I fully believe in the value it will bring to the company.   An analytical approach will help us make better decisions using more finely tuned, information-driven facts in a more efficient way.  It will drive consistency and speed in how we manage the levers that impact all of our business process outcomes."

Nocker is quick to clarify that Kimberly-Clark is not entirely new to business analytics (the company currently applies analytic models to its supply chain and customer relationship management efforts, among others) but early on, she became convinced that the company could do it much more powerfully. It was this conviction that set her on the course for change.

Making the business case
Nocker needed more than the power of her conviction to make the business case for piloting what could become significant changes to Kimberly-Clark's business processes. She needed quantifiable business impact to get the attention of her stakeholders. But how do you anticipate the return on investment of process improvement?  "We asked the business leaders to quantify what the new capabilities would mean for them," says Nocker. "For example, it will generate x million in new sales, reduce inventory by x amount. Based on that, I put a stake in the ground and said I would deliver $5 million in business benefit in this endeavor. At the end of year one, we actually delivered about $23 million worth of business benefit.

"Of course, I fully realize that the question is whether these are hard benefits. Quantifying the expected benefits of business analytics is always very difficult. The conclusion I have come to over the years is that the business case for analytics can be intuitive in nature; we know we need to do this and we know we will operate better if we have this information and use it wisely.  It's hard to put a price tag on the abilities to make faster, better decisions, predict where our business is going, and optimize outcomes," she concludes.

A change in mindset
Once the business case was adopted, Nocker moved ahead to the education stage of her journey, during which she encountered two distinct but related challenges. "For one thing, business analytics isn't widely understood on the business side and business analytics is much more powerful when the technology is fully engaged with the business needs. However," she says, leading to the second challenge, "that isn't necessarily how people expect to work with an IT organization."

To bridge what has traditionally been a gap between business and IT, Nocker created a team of internal consultants who live and breathe the processes, strategies, language and needs of their assigned business unit clients. "They can then work more effectively with my development and engineering team to determine what solutions the business units need," she says.

In fact, if the connection with the business units is so critical, Nocker wrestles whether the IT support for analytics, query and reporting applications should just live there. "Many companies have a competency center sitting in the business, where they don't do as much of the back-end development but have a seat at the table to plan strategy," says Nocker. "Unfortunately, I don't see that being widely adopted —but I do believe that will ultimately change, and business analytics will be seen as more of a business function than an IT function."

In the meantime, Nocker says, "We're definitely changing the paradigm here at Kimberly-Clark in positioning some of our IT staff as internal business consultants."

While implementing this liaison-type role within her own department, Nocker herself has been on a mission to share the analytics vision with peers outside of her department. "I personally have spent a lot of time talking to and educating business leaders in areas of the company that I believe could leverage more analytic capabilities – global functions like financial analysis and pricing – and saying, 'Here are the types of capabilities we can bring, how can we work together?'"

Heavy workloads can be another very practical obstacle to overcome. Nocker says, "Many of the business leaders that my consultants work with are facing huge operational challenges and objectives that they consider higher priorities — and that they are relying on my consultants to help address.  It's difficult to go to a business leader who's under pressure and say, 'You really need to think about this new capability.' So, the consultants have to reassure their clients that they're taking care of current priorities, but also coach them on how they can move the needle.  It becomes my responsibility to ensure that my team can articulate a compelling story about the benefits of business analytics."

Like any good change leader, Nocker recognizes the extreme value to be found in small wins. "We wanted to spark the interest by generating value immediately, so we created a Rapid Value Realization team to pilot projects in selected business areas and help people understand the capabilities in their own context. They ran some supply chain analysis for one factory on data around one product and they performed workforce utilization analysis for our human resources department.

"This is where we are now," Nocker adds. "So while we continue to perform additional pilots to get and share those quick successes, our next step is to consider how we can scale the pilot into a global process.  We are continuing on this path of Rapid Value Realization while we build out the long term enterprise platforms and competencies to support the analytics framework across all business processes and functions.  Each Rapid Value Realization takes us one step closer by solidifying the stakeholder buy-in and validating the course we are on to establish a global, analytics-driven environment."

New skill sets required
As she reshaped the definition of her department's role from IT order-taker to business consultant, Nocker became one of a growing contingent of IT executives faced with the need for a new skill set – one that combines the quantitative talent of a statistical analyst with the business mindset of an MBA. She focused the majority of her effort on retraining current staff and hired only a small number of new employees. (Nocker is a strong believer in skills transference; her undergraduate degree is in nutrition. The connection to her current career? "I am fundamentally driven to understand how things work and how behaviors drive results," she says.)

Exactly what are the skills that Nocker sees shaping this new breed of business analytics experts? "A passion for understanding cause and effect in the business and a mindset of continuous improvement," Nocker answers. "Also critical is the ability to function within both the business and IT sides of the business. They need to understand that it's not just about the technology – technology is just an enabler. They need to be able to hear a business requirement like 'I need to manage eroding margins' or 'Help me improve our customer satisfaction' and understand the data and technology that can make that happen."

In retraining her staff toward developing this new role of internal consultant, Nocker had staff members shadow her as she modeled her consultative approach with internal business clients, seeking to understand their objectives and educating them about how her team's analysis could help. Then, she says, she just sat back and watched. "Over time, you see the people who naturally gravitate towards the client-facing consulting role and the ones who prefer to focus on the back-end development."

For all of her staff, Nocker is an avid believer in continuous training and often has her team attend conferences in tandem with their business partners. "This helps ensure we all have a common understanding of what we mean by analytics — and of what 'analytics nirvana' would look like to all of us."

So just what is "analytics nirvana" to Nocker? "For me, part of that vision includes an end-to-end analytical business process," Nocker says. "So from the manufacturing floor to receiving the order to shipping the product and getting it into the customer's hands, even registering the revenue for the product, what are the analytics throughout that business process that we could provide at the right time to the right person to help them make the right decisions?  Having those analytics embedded in a business process for the decision makers is key to truly making us an analytic company."

So when her CFO asks, "How are we going to change the way people think?," Nocker is ready, albeit with an ambitious answer: "We need to get people focused on seeking the most optimal outcome for every decision — and that can only be done with the right software capabilities and the right skills. Educate them on what is possible, demonstrate results and celebrate successes. That's how you make it contagious."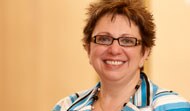 Renee Nocker, IT Director, Kimberly-Clark
---
WHAT NOT TO DO

Today's rapidly changing environment requires an almost constant retooling and rethinking of business management and processes. In The New Know, Thornton May highlights seven symptoms executives need to be aware of and treat if they want to thrive in the new environment:

1) Denying that the world has changed.
2) Maintaining a complacent corporate culture.
3) Responding with business as usual.
4) Failing to cannibalize your product line before your competitors do.
5) Letting egos get in the way.
6) Always being in catch-up mode.
7) Failing to adopt the new business model for the industry.

Order The New Know.