Bringing big data to life
Ask yourself, how is big data changing my life? The future of insight starts with making your big data assets work for you.
By Mikael Hagstrom, Executive Vice President, Europe, Middle East, Africa and Asia Pacific, SAS
In past issues of this magazine, we've discussed the concepts of hyperconnectivity, big data and real-time analytics.

Hyperconnectivity allows us to expand our networks far beyond our geographic locations and gives us access to new possibilities for work and value creation.
Big data lets us recapture the best of what we had before globalization, when the citizens of communities felt their mutual dependence in every moment, and human connections were deep.
Real-time analytics introduces the ability to live in the present instead of the past, moving from hindsight to insight.

How is the convergence of these three megatrends changing your life? A big question, I know, but the future of business will be fueled by big data. And unlike the diminishing resources of an industrial economy, this new renewable resource grows at an exponential rate.
Taking charge of our common future starts with our ability to liquidize big data. But how? Just as coal gets liquidized to turn it into fuel oil, big data requires a final liquidation step that makes it usable too. For big data, that final step is visual analytics, which makes big data portable, transferable and easy to share. Data visualization brings big data to life by liquidizing virtual knowledge assets in your day-to-day interactions with colleagues. It helps you anticipate what's coming, challenge assumptions and make decisions that align with organizational goals.

Further combining data visualization with high-performance speed is opening the world of big data like never before. This revolutionary technology helps organizations convert raw data – from financial market data, consumer spending trends, climatological readings, geographic coordinates and countless other sources – to pure value.

Why your data must be liquidized
Let's face it, many managers are uncomfortable working with data, let alone big data. They see it as something reserved for analysts or IT specialists. In this issue of the magazine, we'll show how visual analytics removes that roadblock and puts information into the hands of decision makers.

This interaction between the right people and the right information is where real value lies. And by allowing users to visually explore massive amounts of data in real time, visual analytics shows what rows and columns can't: connections among data that you never dreamed were linked. Connections that spur the next question and the next, until your view on your company's business is informed by a completely new wavelength of light. This is bringing big data to life.

This very point is illustrated at XL Group, a global insurance and reinsurance company that has used visual analytics to help its analysts and underwriters ask more questions and explore new ways of analyzing risk. Visual analytics is also providing a broader user of analytics throughout the company, putting the power of knowledge directly into the hands of decision makers.

Not only does visual analytics bring big data to life. It also brings life to big data. As valuable as it is to have new tools for analyzing objective data, the next frontier is the convergence of this data with the world of social intelligence – things like opinions, reviews, evaluations, likes and dislikes, and other qualitative data. By merging qualitative data with quantitative data, you see a fuller, more complete picture that you wouldn't get from analysis of one-dimensional strands of structured, static data.

Take the Hong Kong government, which is using visual analytics to better understand and serve its citizens. The Hong Kong Efficiency Unit analyzes hundreds of thousands of public complaints that come in the form of calls and emails. Paired with population data from the Census and Statistics Department, the Efficiency Unit can develop greater insights and find innovative solutions to address citizens' needs in a timely manner.

The Hong Kong Efficiency Unit is bringing big data to life by using high-performance analytics in a social context to respond in real time. This can be achieved in organizations of all sizes and across all industries. Just consider:
By evaluating numerous scenarios simultaneously, banks can spot opportunities, detect emerging issues and respond in real time to market conditions.


Retailers can personalize offers in real time based on structured and unstructured data from sales and social media, boosting sales.


Public health organizations can prevent or mitigate outbreaks by analyzing and mapping tweets and other social media for mentions of disease symptoms in real time.


Government groups can better respond to natural disasters; by combining traditional data and social data, they can prioritize resources and relief efforts based on areas of greatest need.

In each of these scenarios, visual analytics is the key to unlocking the power of big data. The other organizations featured in this issue – from retailers to airlines – will demonstrate how visual analytics broadens the reach of analytics across the organization and provides an effective way to share insights. It makes data exploration and visualization a possibility for anyone, from analysts to business users. And the information and insights it generates can be shared on mobile devices with the push of a button.

With visual analytics, we no longer need to struggle to overcome or work around constraints that belong in the past. By treating data as the asset class it is and connecting it with qualitative information, you can derive greater insights that enable you to challenge, decide and align. Whose hands is your future in? It's time to take charge, liquidize your big data assets and bring life to your data with visual analytics.

Bio: As head of an expanding global team of 4,500 professionals in 48 countries, Mikael Hagstrom is passionate about providing a culture where innovation can flourish, resulting in market leadership for the organization and its customers. He leads SAS' Europe, Middle East, Africa (EMEA) and Asia Pacific regions, which accounted for 53 percent of SAS' 2012 revenue, or $1.52 billion.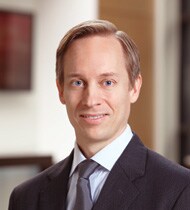 Mikael Hagstrom, Executive Vice President, Europe, Middle East, Africa and Asia Pacific, SAS